Artikel © Tone Deaf
by Brandon John, October 10, 2017
Dave Grohl wanted Kyuss' producer
to make 'In Utero' instead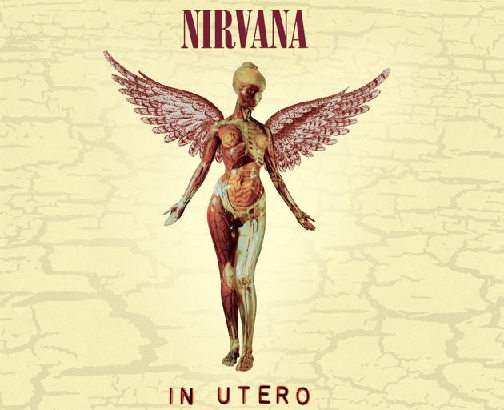 Nirvana's third and final record, IN UTERO, turned out pretty well in the end we reckon, although some fans consider it to be the band's weakest effort – including their own sound engineer, who recently described it as a "MEH" album full of "RECYCLED OLD IDEAS".
But would they have looked a bit more favourably on the LP is, rather than Steve Albini at the helm, Nirvana had picked the man behind the hard as nails desert rock of KYUSS?
If Dave Grohl had been able to convince Kurt Cobain to go along with it, that's exactly what we could have ended up with, as Dave recounts the story to Mojo of his attempt to sway the band towards Kyuss' producer CHRIS GOSS.
"After Scream was over, my friend Pete Stahl stayed in Los Angeles and started a band called Wool," Dave begins, setting the scene. "This was back in the days when we would write each other letters, and Pete said, 'You've got to hear this band Kyuss, they're from the desert and it's the heaviest groove I've ever heard.'
"I went to the Off Ramp in Seattle to see them perform – this is 1992. You were lucky if you found a punk rock band with a drummer that could actually swing – usually it was just full-on aggression. Kyuss had groove in spades.
"I bought [1992's] 'Blues for the Red Sun,' and the production is so perfectly natural, by CHRIS GOSS, and recorded at Sound City.
I bought at least 50 copies and gave it to people. And I didn't know them at all – I'd just seen them play."
Grohl was enamoured with their sound, describing the 'nice guy offstage, tough guy onstage' vibe and sheer power that he felt could work a treat on In Utero.
"They're musical bullies in the best way," he says. "If you don't have what it takes to jump up on-stage then don't do it. Josh [Homme] and Nick [Oliveri], they're the sweetest people in the world, but you don't wanna cross that line.
I think growing up in the desert made them the way they are.
"I remember playing the album for Kurt, saying, 'We should have this guy produce the next record,'" he continues, "and Kurt looking at me: 'Really?! You really think so?' And of course I backed down, started thinking, 'God, maybe's it's too noisy…'
"And then we make a record with Albini…" Dave concludes, laughing. "But Kyuss were a force to be reckoned with."
Needless to say, Steve Albini was able to bring out a vulnerability on In Utero that, for most, worked brilliantly, but it's hard not to wonder how GOSS' heavier sound might have clicked, too.
Dave of course got so go as heavy as he liked with the Foo Fighters, and has since been able to work and hang with Josh Homme extensively, so he got to have his cake and eat it too in the end.