Artikel © Bong Load Records 2016
Linernotes: geschrieben von CHRIS GOSS und JOHN LEAMY
Vorwort: Thomas Hornbruch, mastersofreality.de
Zum 15. jährigen Jubiläum von "DEEP IN THE HOLE" haben die MASTERS eine limitierte Auflage von nur 1.016 Sück aus VINYL von Ihrem Meisterwerk aufgelegt.
Heutzutage restlos ausverkauft und ein rares und gefragtes Sammlerstück. Ausführung: Neugestaltetes Albumcover von John Leamy, Vinyl 180g im transparenten Grün, mit Poster, Linernotes und Bong Load Aufkleber.
Die Linernotes, die die beiden Köpfe der Masters geschrieben haben zeigen einen interessanten Einblick in den Produktionsprozess des Albums das sozusagen simultan zu Josh Homme´s Desert Sessions aufgenommen wurde, gepaart mit ein paar schrägen Stories.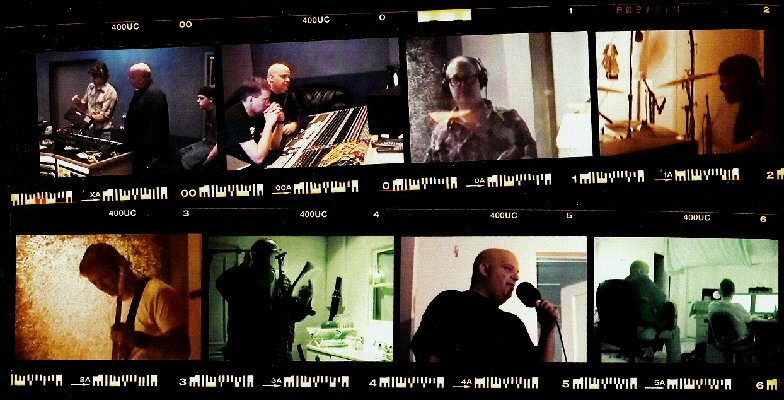 IN THE PRE-9/11 SPRING AND SUMMER OF 2001, JOSHUA TREE, CALIFORNIA WAS A WARM SLEEPY DESERT COVE, TEMPORARILY OCCUPIED BY A LARGE SELECTION OF INTERESTING AND TALENTED ROCK AND ROLL MUSICANS.
The strange thing about the collection of songs called "Deep in the Hole" – it doesn´t sound like a lot of our friends playing on Masters of Reality music to me. But it is. What ensued was an alchemical aural bonfire. It came to life in an 8 or 9-week stress free wave. Bits and chunks of friendly studio hangs become strings of musical DNA that sculpted the green breathing bust. Once an album or even just a song hits the studio, I begin to work very quickly. My current work chant is "Implication is our only goal." When you know what the strut, cadence or crawl implies, and you know how to dress for the occasion, you´ve got a song.
And I work with people who can take it as fast as you can throw it. They allow a writer to hover over the barbed wire. Technical issues are not my concern, especially during our very first 2001 dalliance with a digital recording system, an if they to get that far, my solution will be "keep recording".
Even if no reasonable piece of gear is usable for our multi-track use, the musicians cannot be asked to stop playing, I don´t care if it´s only being captured on a cassette, as long as the moment is being documented, then we are still a forward moving juggernaut.
Our drummer/co-writer John in New York based, no time for long lunches or sight seeing drives. Normally if a studio´s tech issues get in my way, the downtime is taken off my invoice. But in this case we were the studio. A mobile set up that we constructed and moved to multiple locations during the two-month stretch. This is a pretty remarkable not to Martin Schmelzle, who has the two most valuable sound engineer assets in spades; brains and ears.
Eventually the album was mixed in Patrick Hutchinson´s living room, with digi-console and speakers balanced on a 6-foot plywood board balanced on a couch. When you hear this music again, try and picture that. All of this studio ethic and logistical stuff was especially fragile on "Deep in the Hole".
Queens of the Stone Age had just returned from a year of touring the "Rated R" album. We were all in a good mood for the success of that record and now Josh Homme was back and had Rancho de La Luna booked for a 2 week stretch of new "Desert Session" recording. For the first time, Josh Homme, Nick Oliveri, Mark Lanegan, Troy Van Leeuwen (not yet a QOTSA member) and many more guests (see the back cover of the LP) were hanging in Joshua Tree and able to come and play on a Masters of Reality record.
John Leamy and I began jamming and laying down some rough patterns. Josh then joined us about a week before the Desert Sessions started. Coincidentally I was having a lengthy bout with a springtime skull and chest visitor, you can hear it on "Major Lance".
Flu-ish brain, lungs and eyeballs in the haze of a popular drinkable "nighttime" cold remedy along with some random headache and breathing aids. And always, for the music writing ritual, a shitload of skunky bud.
The measly five-figure budget meant no time to fuck around, yet that´s how Masters of Reality albums are made. By fucking around. That´s why they call it "playing" music and not working music. That quip is heard quite a bit at my sessions. Even the darkest, most pretentious and serious music imaginable can be snidely pleasurable to construct. If egos present allow it.
Many artists are convinced that the music is valuable only if there is pain in the process. That´s partially true and different for everyone. Before I embark to write a record there´s a very good chance that I´ve already faced the enemy in what I call the "Gethsemane" stage. You´d have to reference the New Testament to get more of an idea of what that is, but in short, it´s realizing your fate may not end up a pretty picture, but you´re going to face it anyway. Andi f you have a chance to assess the talent knocking on the door like I did, I feared nothing. To this day, I live for the moments when creation happens in any recording setting.
A few hours ago, there was empty air in front of the speakers. Now there is music in that space and the results and reactions to it turning wheels of chemistry, physics and emotions. It still blows my mind and hopefully yours as well.
About 15 miles north of Joshua Tree center there is a town called Landers. A mile or two out on a flat desert plain lays one of world´s largest freestanding boulders. So, I think at least a hundred years ago someone named it Giant Rock. It must be about 40 feet long and 25 feet tall. But so big, that at one point early in the 20th century a man dug under the rock and carved himself a modern underground apartment with electricity and everything. Then came an attached restaurant, gas station and airstrip. There are photos to be found online of Giant Rock in its heyday. Tourists, small airplanes, UFO watching clubs. In fact, it really helps a desert visitor understand the mentality of not only turn of the century California desert, but of a quirk that still exists today. Anyway, over the years, the rock became abandoned. By the 1970s it had become a secluded teenage drinking spot. The subterranean apartment filled with junk, mattresses and broken beer bottles. The rock itself covered in graffiti and the surrounding area as well. In general, a must see, but you only need see it once. It´s a drive that´s rough on your car tires and a remote spot where you don´t want to be stuck in 112-degree summer heat.
During the recording of Deep in the Hole, we were visiting by the local sheriff to quell our jamming volume at one of the houses we rented for the project. During our obligatory small talk, he asked if we´d heard the news about Giant Rock. "No Officer Calvert. Do tell." And he explained, "Well in the last day or two, it broke in half."
It was an act that could have only happened by thousands of years of something. No explosives. No huge drilling machine could have even been brought close enough. The house sized rock just split in two and fell apart. And it happened on the day John, Josh and I were recording the title track called "Deep in the Hole".
CHRIS GOSS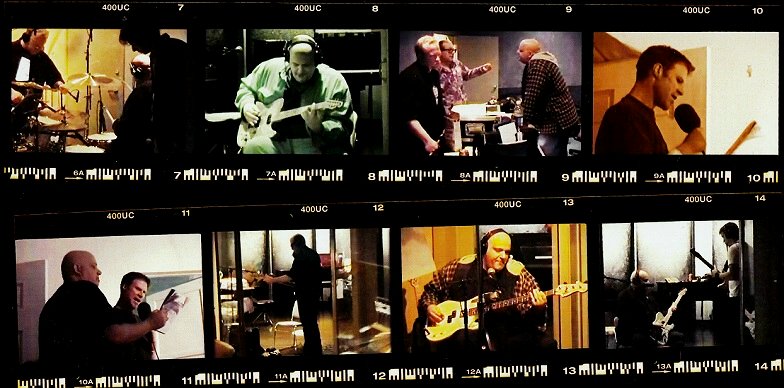 The picture was about the change in ways none of us anticipated, and I look back on that time as a kind of innocence lost. It´s a one-way street.
Things I remember about those sessions:
A convergence of great people, energy and place. Lucky to have been a part of it.
The house we rented at the entrance to the park had a security feature that would randomly turn on lights and pulsing, sexy club music. Triggering this would result in us immediately turning to each other and rasping "oooohhh….fuck yeah…"
We tracked most drums in a few days at a studio next door to Sound City. I don´t remember the name, but it was owned by Steve Negus, the drummer of Canadian progstars SAGA (tonight we´re on the loooose). Most of the time we were working, a guy was there with his cool dog. It wasn´t until the tracks were done and we were back in Joshua Tree that someone told me that it was Rick Springfield.
I broke my kick pedal in half while we were cutting drums and buried the remains at the foot of the ivy-covered front wall of Sound City.
Because cutting records digitally was pretty new, and the ProTools and mac approach was kind of untested, weh ad no small amount of difficulty with the gear. I took a few rides back into LA with Martin, sometimes in the middle of the night, to track down some part or other we needed to work. This allowed me to see first hand the joy Martin took in burning fools with his car. I think it was a Nova, looked like a beat up parts car: primer, maybe some Bondo. That thing was a wolf in a Bondo wolf´s clothing. More than once, some douche pulled up alonside us and challenged Martin at a red light. I thought that was something you only saw in movies. Corny ones. The result was always the same.
We cut the dums to "Shotgun Son" and "Counting Horses" in the kitchen of the rented house right before I took the Supershuttle back to LA. I wanted to use a cymbal with rivets as a ride on "Horses", but didn´t have one. We tied a fork to the bell of the cymbal and just let it bounce around.
I tried to go to the Integratron and was chased away by a group of very butch lesbians who had rented it for some kind of convergence. They all looked like R. Crumb drawings: Pigtails, gym shorts, huge asses. Extremely strong. I would integrate my tron some other time.
I remember that "Deep In The Hole" was written in pretty much amount of time it takes to play it. Goss on piano, me on bass and Josh on drums. Instant.
The first sound you hear on the record is me playing the open of "Third Man" with my thump, my only guitar moment. I´ll take it.
We´d start, as usual, with cassette recordings. Existing snippets of Goss singing into a micro-cassette recorder, snatches of melodies hummed into answering machines and other crumpled post-ist. We´d expand and restate these and flesh them out to unwieldy proportions until we had a pile of ideas either new or inspired by the first tapes. Every day, we´d work to cull the herd and refine the ore. Gradually, the pile resembled the songs on the record, and we´d rehearse them for performance. Or not.
I´m pretty sure we met and hung out with the then-unknown Slipknot in the parking lot of SC.
I went outside to smoke a cigarette with Nick Lucero. When we come back inside, Goss had tracked Major Lance. Totally. Beautifully. In like 10 minutes.
Oooohhh…fuck yeah.
JOHN LEAMY