The Cult / Masters Of Reality / Romance
Bristol, O2 Academy - 18th January 2011
Written by Nev Brooks and Johnny H. Tuesday, 25 January 2011
Having a nerd like knowledge of Bristol's road system certainly has its advantages for gigs in the city centre these days. So whilst my uber rocking amigos are either stuck on the motorway or queuing to get into a nearby car park, I'm already merched up, stage front, quaffing a soft drink readying myself for the arrival of the first band on tonight, London goth/pop crew ROMANCE.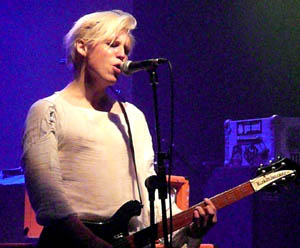 Recently signed to Fiction Records you'd be forgiven for thinking you'd just walked in on an Eighties night at Ramshackle when you first hear this four piece. But to simply cast them as a nostalgia act is doing them a great disservice, I'll grant you that singer guitarist Jamie Lovatt also looks like he's just fallen out of Blitz at four in the morning, but his sublime voice, bleach blonde wedge haircut, and high cheekbones have superstar quality written all over them. Ploughing through a short but explosive set that had members of both of the other bands on the bill casting a watchful eye out front, you know when you've spotted something that little bit extra special in a band and Romance certainly have that spark required to separate them from the norm.
Another band that have long since lived outside the norm are MASTERS OF REALITY Reality and their enigmatic frontman Chris Goss. Twenty three years on from the release of their ground breaking debut album this is their first proper full length tour of the UK and you can't help but get the feeling that this might be more to do with Chris producing The Cult's upcoming studio album rather than any promotion company suddenly wanting to plough money into the band's excellent 2009 album 'Pine/Cross Dover'.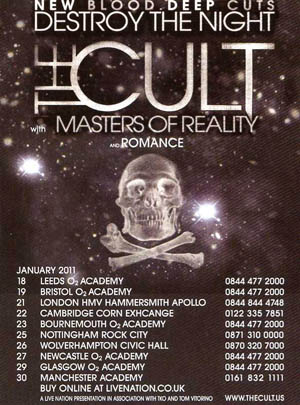 But, Masters Of Reality are finally in the UK for a proper tour, so they're gonna god damn rock right? Well 'Yes' and 'No'. So whilst tracks like opener 'She Got Me (When She Got Her Dress On)' and 'Third Man On The Moon' are both perfect examples of the bone dry desert rock that we all love the band for, they also seem to leave most of the rapidly expanding crowd scratching their heads, which in turn means that the band/crowd connection that fired up the show stopping performance at Highbury Garage back in October 2009 just never seems to happen.
Playing a set laced together with tracks from throughout the band's long and turbulent career, quality tunes such as the jackbooted 'Dreamtime Stomp' and a monumentally hypnotic 'Corpus Scorpios Electrified' cut through the "who the fuck are these?" general apathy pervading the venue with surgical like precision, that left Mr Goss at least, drenched in sweat.
Having not been exactly 'blown away' by THE CULT the last time our paths crossed on their 'Love 2009 tour' we decided that it was probably better for someone else to pick up the review pad at this stage, so with his usual ruthless efficiency he was soon scribbling away....And it's over to you Mr Brooks.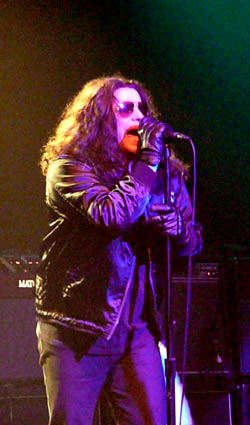 Tonight isn't the first time for me watching The Cult live, and I have come to accept that from earlier performances to some of their latter day showings you never quite know what you are going to get. When they're on form nobody puts on a better show, but off form, for whatever reason (ahem), they have also put in some pretty dire performances. So the stage is set, small intimate venue, promotion that tells me they will be performing some early days stuff that they don't normally play and a set taken from throughout their career, all good so far. As per usual they don't hit the stage right on time, but when they do boy is it a band on form, opening with new track 'Every Man And Woman Is A Star'. They then hit the overdrive button second song in with a blinding version of 'Rain' from the sublime 'Love' album, this being the first of three tracks from said album to put in an appearance interspersed within tonight's set. The others being 'Nirvana', and the monolith of noise that is 'She Sells Sanctuary'. For me though the highlights of the set were many, including an early days version of 'Horse Nation' and a stunning run through of 'Go West' 'Dirty Little Rockstar' brought things a little more up to date, kicked like a bastard before being outdone later in the set by a wind milling Billy Duffy ripping the place up with 'Love Removal Machine', surprisingly I haven't heard Ian Astbury so quite so self depreciating before paying homage to the Stones and Bauhaus after the former track finished (yes of course it sounds like the Stones, it's the same guitar run as 'Undercover Of The Night', but who cares when it sounds this good?)
Without going through every song they played and saying how good they each sounded, I would urge everyone with a modicum of taste to catch them now and not wait until their (as yet unconfirmed) appearance at this year's Download Festival, this little secret being revealed on the night post encore by a very happy Ian Astbury. And what of the encore it was, with a stunning 'Rise' followed by one of the other songs of the night for me in 'Spiritwalker', before finishing up with a cheeky cover of the Doors' 'Break On Through (To The Other Side)', which by the end left a hugely impressed audience milling out into the cold night air seemingly as happy as the band, or so it seemed.
Visually the show's shamanic imagery was spot on, blending well with the music, but this was the first rock show I've ever been to that when the band were in full flow they suddenly stopped to introduce a three and a half minute art house film directed by their singer before returning to finish things of musically, what was that all about? I think we needed Gaz E's mindset to interpret it but I'm sure hunger, poverty and the Indian Nation were all involved (anybody see anything else, answers on a postcard please). Overall then twenty tracks and not a dud amongst them, and at two hours plus, what more can any rock fan want? Let's just hope the Download appearance will be in one of the tents giving The Cult the intimacy needed to really appreciate them.