The Brendon McNichol Interview
© Thomas Hornbruch Mastersofreality.de 2007
Es ist in letzter Zeit still geworden um Brendon McNichol. Wer wissen will was das (ehemalige) Masters of Reality und QOTSA Mitglied jetzt macht, sollte dieses Interview lesen, viel Spaß!
Thomas: When and how did you meet Chris and the Masters first time?
Brendon: We meet through his lovely wife Cynthia in the early 90's...was a huge fan of the Masters...we jammed together a lot.
Back then....Chris is not only a musical genius but an amazingly funny and loving human being...
I cherish our friendship.
Thomas: What was your first Masters-Concert and what were your impressions after the Concert?
Brendon: Saw them with Ginger, Googe and Chris open for Alice and Chains.
A bunch of goats playing like angels... was completely blown away....

Thomas:In which bands did you play before (Rattlebone) and after the Masters (QOTSA Roxy Saint)?
Brendon: K.C. and the Sunshine Band, The Drills, Stacy Q., Pablo Moses, Michigan and Smiley, Charlie Chaplan, Drone w/ Ted Parsons, Desert Sessions, Levi Chen, Photek, Discordia, the Dwarves and tons of soundtracks, commercials and albums as a session player.
Thomas: When is your birthday and when did you start playing guitar?
Brendon: 6-6-66....starting playing in church at age 7 and non-stop after that...
Thomas: Which guitars did you use when you playing with the Masters?
Brendon: 76 Gibson SG Mahogany, 75 Gibson L6-S Midnight Express Maple,72 Fender Stratocaster black, all have been rewired and modified.
Thomas: What are your favourite guitar player(s) or music heros?
Brendon: Jimmy Page, Steve Howe, George Harrison, Frank Zappa, Billy Gibbons, Eddie Hazel, Randy Rhoads, Micheal Hedges, Andy McGee, Don Ross, Kaki King, Justin King etc.
Thomas: What music influenced you?
Brendon: Led Zeppelin, Yes, The Beatles, ZZ Top, Frank Zappa, Earth Wind and Fire etc.
Thomas: Are there songs you wrote with Chris after the Jody Frosty Time (like Beside your Love) we must know?
Brendon: Rum Tiki Tee Tie, Hey Diana Hey....???...more someday…

Thomas:. Can you tell us a little more about Paul Powell (the Masters-Tour-Bassplayer 1998 & 1999)?
Brendon: He's an english producer and session player. He's amazing, played with Aztec Camera, Mica Paris etc. worked with record labels Delicious Vinyl and Acid Jazz .etc..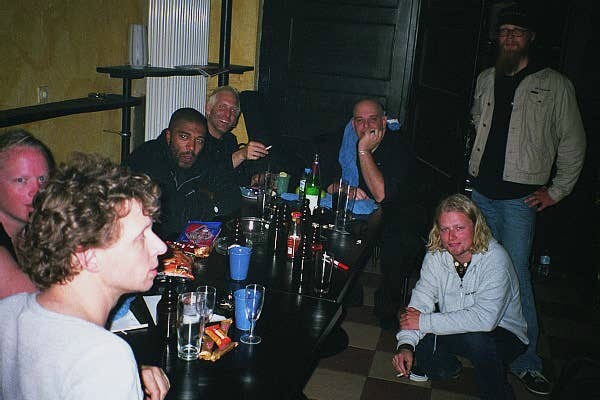 Real War Tour 1999: John, Mathias, Paul, Brendon, Chris & the Kirkvaag Brothers from WE

Thomas: What do you think about Silverbullit and WE (the 2 supportbands 1998 & 1999)?
Brendon: Loved both those bands. WE are WE are just awesome. They never quit. Very proud to know them. European kids are great to be around. 2 thumbs up!!!!
Thomas: Can you tell us a secret insider- or funny story about your time with the Masters?
Brendon: All good times with the Masters.....Chris writing and playing a song - called "Brendon so Fair".....laughing so hard we cried....you should hear that tune....it's a hit song...
Thomas: Why did you leave the Masters?
Brendon: When you play with the Masters it becomes a part of you, forever....
You never leave... I never left...
Thomas: I must ask you this… Is it true that Kristy Mc Nichol is your cousin tell us about it?
Brendon: To my knowledge she is not related to me....

Thomas: We met us Rock am Ring Germany after the gig, I was the only guy who wears a Masters of Reality t-shirt on this festval and you was lucky to see someone who knows Chris and the Masters (the time where Josh had his motorbike accident) In this time you played in 2 Bands Masters and QOTSA how was it and what you feel to play in the 2 greatest Stonerrockbands ever?
Brendon: Being apart of Masters and Queens at the same was amazing. A highpoint on my musical journey.


Sie kennen sich schon sehr lange Brendon & Josh Anfang der Neunziger Jahre

Thomas: What is your job now?
Brendon: I'm a contractor and have a company renovating homes in Los Angeles.
Thomas: Are you married and have children (like John, Googe or Victor)?
Brendon: Single with no children.... got a kitty cat...
Thomas: Now some favourite questions. What are your 5 favourite albums (you can say more if you like)?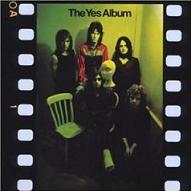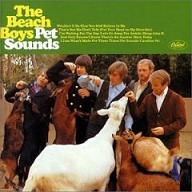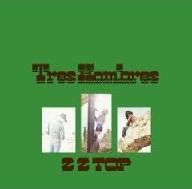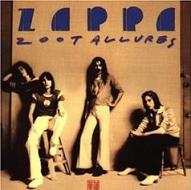 Brendon: Led Zeppelin, Physical Graffiti,
Yes, The Yes Album,
Beach Boys, Pet Sounds,
ZZ Top, Tres Hombres,
Frank Zappa, Zoot Allures,
Abba, On And On,
Public Enemy, It Takes A Nation Of Millions To Hold Us Back,Shakti
w/ John McLaughlin, Natural Elements
Dixie Dregs, What If
Mozart-violin, concertos etc.
Thomas: What are your favourite Masters-Songs?
Brendon: John Brown, Brown House... love them all... Kill the King is really fun to play live... lets not forget that Tim Harrington is fucking awesome....

Thomas: What hobbies do you have?
Brendon: Rock climb, kite surf, unicycle, draw, sky dive, scuba dive, nut bells, day dream...
Thomas: Last musicalbum you buy?
Brendon: Kansas, Leftoverture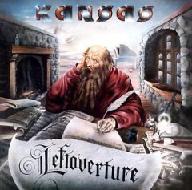 Thomas: Last movie you watched and what movie you can suggest to a Mastersfan?
Brendon: Last movie was "Knocked Up" it was hilarious....and check out Frank Zappa's movie "Baby Snakes".
Thomas: Favourite dinner and drink?
Brendon: Dinner - organic farm rasied dover sole, mashed potatoes and a salad. Drink - arnold palmer.
...and now a few questions about Queens Of The Stone Age.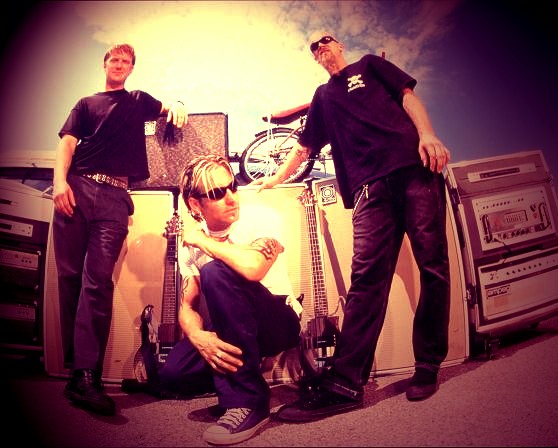 Queens of the Stone Age: Josh, Brendon & Nick
Thomas: What do you think about Troy van Leeuwen as your follower by the Queens (I always prefer you, you have more fun working)?
Brendon: You mean Bun E. Carlos? Don't know the guy... he plays the parts... he's out lasted all before him... as goofy as QOTSA has become...I wish them only the best.
Thomas: What do you feel when you heard Nick was fired from his Job as bassplayer?
Brendon: I wasn't shocked... didn't give it much thought... I pray Nick has success and happiness.
Thomas: Last question: What do you say to all the Mastersfans outside?
Brendon: Smile, Laugh... just say no to drugs... tell your parents and friends you love them and then show them... never let your dreams die... don't stop listening and supporting great music... especially the magical MASTERS OF REALITY!!!!!!!
Thomas: Thank you Brendon for the great interview!!!!!!