The Kristian Kirkvaag interview
© Thomas Hornbruch Mastersofreality.de 2006
Fotos von www.werock.org
Passend zu der morgen am 28.02.2006 beginnenden WE SMUGGLERS TOUR in Deutschland, gibt es hier ein interessantes Interview mit Kristan dem Drummer dieser geilen Band, die man live nicht verpassen sollte, wenn man guten Stonerrock liebt.
Zur Info: WE war bei der Masters of Reality Real-War-Europa-Tour 1999 der Opener.
Daraus ist eine starke Bindung zwischen WE und Chris Goss entstanden, der nicht nur deren letztes Album produziert hat, sondern auch tatkräftig musikalisch mitgemischt hat.
Somit wird das neue WE-Album "Smugglers" wahrscheinlich auch jeden Mastersfan umhauen. Doch nun zum Interview: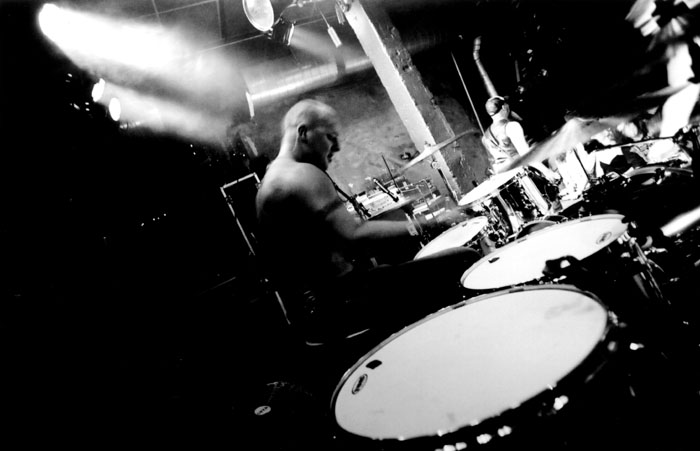 Kristian Kirkvaag bei seiner Arbeit
Thomas: When and how came you in touch with Chris and the Masters?
Kristian: WE was on our first "tour" in Germany back in 98, and realized that Masters of Reality was about to tour Europe 4 months later, june that was. WE told our bookinagent to put up a week of touring in June, and when we finished the week in Cologne june 1998, we went straight to a classic venue and near friends of ours, the people running Forum in Enger... (now moved to Bielefeld).
The show was fantastic, and Don, our guitarplayer managed to sneak into MoR`s tourbus, having a few words with Chris and give him our Wooferwheels album, which WE was touring with at that time. A few monts later, a fax ticked in to me saying he liked it.
When we sent him Livin The Lore (1999) we as invited to tour with MoR as special guests, a splendid 35 day trip it was. Great people, great tour, and a truly great experience for WE.
Thomas: What are your favourite 3 Masters Songs?
Kristian: Blue Garden, The Eyes Of Texas, Kill The King, 100 Years (Of Tears In The Wind), the list goes on, a rondom pick in a vast and impressive catalogue.
Thomas: Are WE influenced from the Mastes of Reality and things Chris produced?
Kristian: Yeah, WE were totally blown away when Blue Garden came on import...
A totally new experience for us, WE ws and still is a very open band. MOR was an eye opener for us, the album that totally drowned the glam scene once and for all. It made us listen again, it made us carve up all the good rock that is the 60`s and the 70`s...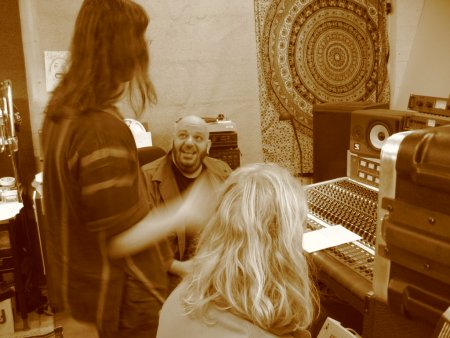 We mit Chris Goss im Studio bei Aufnahme des SMUGGLERS-Album
Thomas: Can you tell me a short or funny insiderstory about We and Chris?
Kristian: Funny? Chris loves food as we do. And sometimes the hunger for food gets to you. When we were recording Smugglers with Chris we got him on a norwegian special; Hot Dog with bread, onions and shrimpsalad. He couldn't get enough. WE often skipped good dinners just to eat hot dogs...
Thomas: Do you think your new Album Smugglers are different from the others, cause of Chris the producer and 5th bandmember (he is musician and producer)?.
Kristian: Yeah, its better. The songs are better. And the vocals really get to you.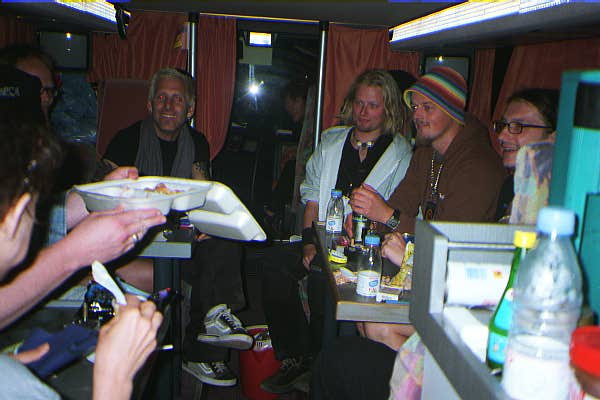 We mit den Masters im Tourbus 1999 Real War Tour (Foto von mastersofreality.com)
Thomas: When do you start playing drums?
Kristian: Started vaguely when I was 16.
Thomas: What type of drums and cymbals do you use?
Kristian: I play Starclassic, handcrafted TAMA drums. I play german steel, MEINL cymbals.
Thomas: What are your favourite drummer(s)?
Kristian: Ho Ho! Bonham from the mighty Zeppelin, Neil Peart from Rush, Charlie Watts, the Stones, Keith Moon the Who, and lots more of course...
Thomas: Do you listen to other music like Stonerrock or 70th music? There is an interesting Metalscene in North Europe bands like Amon Amath?
Kristian: Must admit I rarely listen to Stonerrock, find it a bit narrowing, but
the 70`s is THE decade for good music, especially the first 6 years of that decade. I am pretty much listening to all kinds of GOOD music...
There is a LOT of shit out there u know.
Thomas: Your 5 favourite Albums ever? (or more if you like)
Kristian:
1.the first six Led Zeppelin albums
2.AC/DC from the beginning up to Back in Black
3.Rush from the first up to moving pictures
4.Yes, Fragile, The Album, Topographic Oceans
5. About a 100 more titles
6. Robert Plant`s and the Strange Sensations latest Mighty Rearranger
to name a few...
Thomas: What Hobbys do you have besite drumming for WE (I think norway have a looong cold wintertime)?
Kristian: No hobbies, no time, drumming is still my hobby.
Thomas: One question for the girly Mastersfans are some of the bandmembers solo?
Kristian: U never know...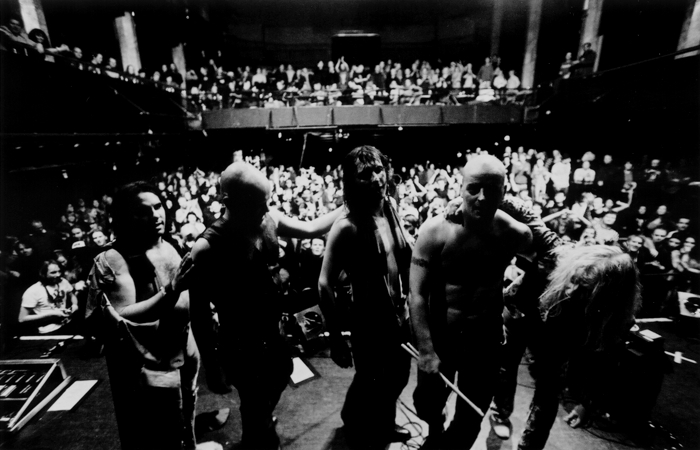 WE live, die komplette Band!
Thomas: What do you wan´t to say to the Mastersfans (and why they should come to see you live on the SMUGGLERS-TOUR)?
Kristian: Well, most MoR fans are pretty much "knowhow" musiclovers to their bones. They know what they are looking for. They know good music when they hear it. WE isnt about making it real,WE are here to make it fantastic, no limits. WE are not your average rockband with tracks inbetween 3 and 4 minutes. WE might go on for 15 minutes, its all about being IN the moment, music has no limits, no borders..it is universal.

Besides that WE are out there to explore, and with Smugglers WE explored
music with Chris as a kind of 5th member. U can here him being with
us...
In the end it is all rock n roll, so is Smugglers, but we wanna take u
somewhere with our music, who knows where....
Thomas: Thank you very much Kristian, rock on, see you on the SMUGGLERS tour that now begins in Germany!!!!!!!