The John Leamy Interview
© Thomas Hornbruch Mastersofreality.de 2006
John Leamy ist das letzte noch existierende Bandmitglied der Masters neben Chris Goss. Was viele Leute nicht wissen, er spielte schon vor Ginger Baker einmal Schlagzeug in der Band und erschuf das Albumcover des ersten selbstbetitelten Masterswerkes von 1989 das dadurch den Beinahmen "Blue Garden" erhielt.
Was John sonst noch treibt und wann das nächste Masters of Reality Album geplant ist erfahrt Ihr nun.
Thomas: When and how do you met Chris and the Masters first time?
John: I met Chris and the Masters in Syracuse, NY in 1986. I was a student at the university there, and was playing in a band called B-Solution.
The other guys in the band were a couple years older and had known Chris for awhile.
Thomas: What was you first Masters-Concert you visit and what were your impressions after the Concert?
John: My first Masters show must have been very shortly after meeting Chris, and it was at a club called "Lost Horizon"in Syracuse. It was simply the best show I had ever seen.
I had seen Pink Floyd the night before, and was absolutely stunned. The music was scary and beautiful and so was the show. They had a sort of old west traveling medicine show vibe about them. Everyone had a stage name and the lighting was very theatrical and effective.
I was completely convinced that I was seeing the best band in the world.
Thomas: How long it take to paint the picture for the "Blue Garden" Album and whats the size of the picture in original?
John: I painted the Blue Garden over the course of about two months, I think, and the original measured 2'X4'.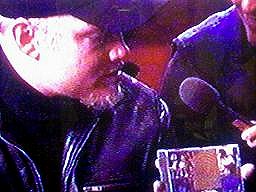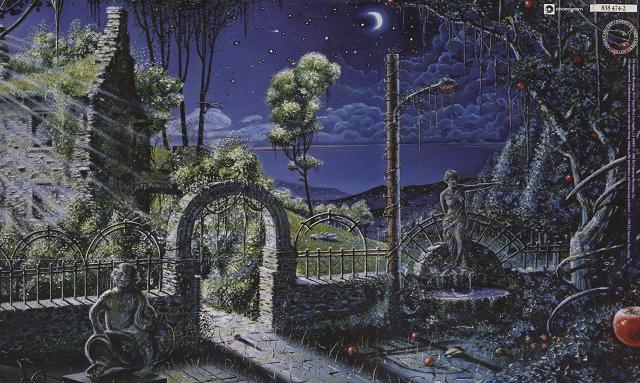 Thomas: Are there more great pictures paint from John Leamy we don't know?
John: Yes.
Thomas: What do you felt in 1990 when Ginger replace you as the Masters Drummer?
John: Well, obviously, I felt terrible. I could understand that it was a situation that was impossible for them to refuse, but I had left my other band and moved to LA to do it, and felt at the time that Ginger wouldn't last long. I was right about that, but the record they made with him is a masterpiece. No pun intended.
Thomas: The Masters of Reality are one of the best guarded music secrets. What do you think why they don´t got a breakthrough?
John: A combination of things. In 1988, they were not really fitting into commercial radio formats, and they seemed to be sort of retro.
Retro and ahead of their time simultaneously. Just some bad timing. I think labels have had difficulty marketing the band because although no one could deny the power of the music, they couldn't figure out a way to present it. Also, changing lineups and labels every record has to make it tougher.
Thomas: What do you think about the Masterssplit in 1989 and about the two other Mastersmembers Tim and Vinnie (Tim is for me the guitarwizard form Syracuse until now)?
John: For my money, the 1988 band is the definitive lineup. Tim and Vinnie are amazing musicians.
By the time they got signed to Def American, Chris and Tim had been writing together for the better part of a decade and I think that they just naturally started to have some different musical priorities.
The music they did together before the split was incredible and it's a shame that so much of it hasn't really seen the light of day.
Thomas: Do you know their Bogeymen album from 1991 (there is much Mastesspirit in it)?
John: I do know it. It's a good representation of what the two of them brought to the band. It has some brilliant stuff on it.
Thomas: When is your birthday and when do you start drumming?
John: My birthday is September 8th (1967). I started drumming when I was about 12 or 13.
Thomas: Are there other instruments what you as a multitalent play or prefer, you are not only the drummer as many Mastersfans you know (I read that you play bass, keybords and in your current band Dr. Mars I read you do everything)?
John: I play guitar as well. I really just try to make my hands do what I hear in my head regardless of the instrument.
Thomas: What favourite drummers do you have?
John: That's a tough one. When I was growing up, my favorite was probably Bill Bruford.
I was also really into the usual suspects like John Bonham, Ian Paice, Billy Cobham, Stewart Copeland, Bun E. Carlos, Ziggy Modeliste, and the man, Buddy Rich. There are so many amazing drummers. Way too many to list.
Thomas: What kind of drums and cymbals do you play?
John: It depends on the situation, but I generally play Ludwig drums and Zildjian cymbals. But honestly, it doesn't really matter that much to me.
Thomas: Can you tell us a secret insider- or funny story about your time with the Masters?
John: This isn't really funny or insider, but was an eye opening experience. we were playing in Kassel, Germany i think.
We had done sound check and we were sitting in the bus goofing around. It was raining pretty hard, and we noticed this guy standing in the rain just looking at the bus. He had apparently been out there all afternoon. We called out to him and asked him what he was doing standing in the rain. It turned out that he was from Poland and was a huge fan of the Masters. He and his friends had pooled their money and then drew straws to see who would use the money to travel and see the show.
By himself. We were kind of blown away and humbled by it. At least I was. We played a good show that night.
Thomas: What happens in the time between 1990 and 1998-1999 when you don´t be a member of the Masters (of inofficial member) and how intensive was the contact to Chris from west to east coast?
John: I left LA and moved back to New York and eventually rejoined my old band, Surgery.
We recorded and toured the US and Europe on Amphetamine Reptile records and signed a deal with Atlantic records in 1993.
We did one record for them before our singer, Sean McDonnell, died unexpectedly in 1995. We decided to fold the band rather than press on without him, as Surgery was always a band about a very particular chemistry.
I got out of music for awhile and began working as a designer / illustrator / animator. Chris and I had stayed in touch after I left LA, so we would correspond from time to time.
Thomas: How came it that you and Chris made "Welcome To The Western Lodge"?
John: In 1998 Chris called and asked if I would be interested in perhaps doing a tour of Europe. I was, and we played together for the first time since 89.
Masters had only done a handful of European shows in the 80's, so the audiences for the shows were largely comprised of people who had been waiting a long time to hear that music live and knew every note of it. That kind of makes for good shows: the audience is expecting something special and you don't want to disappoint them.
At the end of the tour, a record deal developed and Chris suggested that I come out to the desert and we'd make a strange album. Which we did. We wrote alot of it just before we recorded it, and in fact, some of the tracks are the first or second time we'd run through them at all at full volume. Other tracks, like Moriah and Why the Fly, were things that we'd been playing in 88 or 89 and had sort of resurfaced . It was just a great time and experience and honestly very gratifying for me to get the opportunity to write some music with Chris after so long.
Thomas: I like the cover from the Western Lodge and Deep in the Hole you made, what idea is behind them (Chris thinking of nipples in one interview when they talk about the the Western Lodge albumcover)?
John: The Western lodge cover design is a bit of a visual puzzle. I've always enjoyed cover art that had levels of imagery that could be revisited over time and perhaps take on different or evolved meaning. Besides, airplane air nozzles just look fucking cool.
Deep in the hole was a far less high concept cover. Chris had the photo of himself with the busted guitar, and it just seemed to work as the cover naturally. Sometimes the best thing is to not think too hard about it.
Thomas: Chris makes much other projects since he is healthy after his long illness. What do you think, when comes out a new Mastersalbum and how should it sound?
John: There's been talk of making a new record perhaps next year. Chris has been extremely busy since his recovery, very much in demand as a producer/collaborator.
As to how it should sound, who knows? That's the fun part.
Thomas: Liam O´Malley wrote me, that after the one Spain-Mastersgig you maybe go with the members of Dr. Mars to the rancho to record an album with David Catching and Chris Goss. Do you think it happens and when you jam in the sunny CA, do you think you can influence Chris to do some Mastersstuff?
John: Well, we've talked about doing that. It would certainly be fun. We'll see. For the moment, we're doing some Dr. Mars recording in New York.
Anytime you jam with Chris, it is quite possible that Masters stuff could come out of it. There's always a tape running.
Thomas: What is your job?
John: I'm an artist/animator/designer in New York.
I'm currently the creative director of Spontaneous, a design, animation and visual effects company. We did a video for U2 just before Christmas. (Klicke diesen Link für mehr Infos / Click this link for more information)
Thomas: What hobbies do you have besite your music?
John: I like to throw knives.
Thomas: Are you married and have children (like Googe or Victor)?
John: I am married and have a 18 month old boy.
Thomas: What music did you influence?
John: Do you mean what music influenced me?
When I was growing up, I was really into jazz and prog. I felt that I would be a better player if I studied music that seemed hard to play somehow.
I eventually realized that the best music is sometimes the simplest. I listen to everything now except for modern country. I can't seem to get with that. I love the older stuff though.
One of the things that Chris and I have in common is our love of Yes. 70's Yes was the most amazing band. If you want to be left alone at a party, just say that one sentence.
Thomas: Now the favourite questions. What are your favourite 5 albums (you can say more if you like)?
John:
Close to the Edge - Yes
Exile on Main Street - Stones
Physical Graffitti - Led Zeppelin
Live at Budokan - Cheap Trick
Back in Black - ACDC
Abbey Road - Beatles
Pet Sounds - Beach Boys
What are your favourite Masterssongs?
John: Hmmnn. There are alot.
John Brown
Kill the King
Wish for a Fish
100 years
Metal Entity
Ghost Train
Thomas: What are the last Musicalbum you buy?
John: Brian Wilson's Smile. It is incredible.
Thomas: What was the last movie you watch and what movie you can suggest a Mastersfan?
John: The last movie I saw was Seven Samurai. I would recommend Spirited Away or Being There.
Thomas: Favourite dinner and drink?
John: I don't really have a favorite. I like a good steak. I like beer.
Thomas: This year the Masters exist 25 years, what do you think about a Masters-DVD with a 25. anniversary gig from a anniversary tour and many interviews with many Bandmembers and other People (maybe David Catching, Martin Schmelzle, Rick Rubin or Josh Homme and Co.) to share the Masterslore (smile)?
John: I think that's an intriguing idea.
Thomas: Last question: What do you say to all the Mastersfans outsite and to the anniverary?
John: I say thankyou for listening. Masters has been my favorite band for almost 20 years, and I'm proud to have been a part of that. I hope that appreciation for this music will continue to grow with the passage of time.
Thomas: John, thank you very much for this interview.