The GOOGE interview
© Thomas Hornbruch Mastersofreality.de 2005 und 2006
Es war schon aufregend: GOOGE, von dem man lange Zeit nichts gehört oder gesehen hat, ist auf meine Seite gestoßen und fand Sie klasse.
Nach der einen oder anderen Email hat er sich bereiterklärt, sich einem Interview mit meiner Seite zu stellen.
Das Interview war teilweise in deutsch und englisch verfasst, da GOOGE einen deutschen Bekannten hatte der die Fragen übersetzen wollte. Leider hat das Übersetzen kurzfristig nicht geklappt, so hat GOOGE nur die paar englischen Fragen beantwortet. (Part 1: Stand 24.12.2005). Heute am 19.01.2006 habe ich noch den Rest (sozusagen Part 2.) des Interviews dazugemischt.
Ich habe GOOGE als einen sehr feinen Kerl und netten Menschen kennengelernt der neben seiner anstrengenden Arbeit bis tief in die Nacht mir meine Fragen beantwortet hat.
Wer schon immer wissen wollte was aus GOOGE dem einzig wahren Mastersbassisten geworden ist, sollte unbedingt weiterlesen..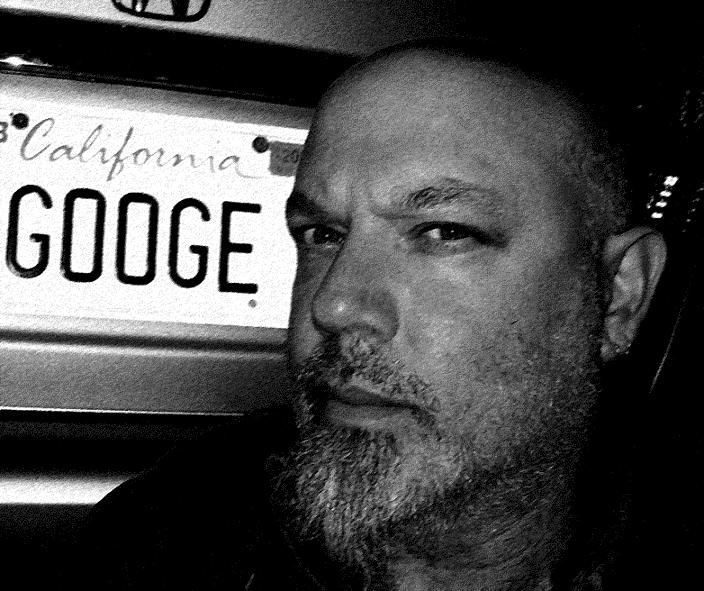 Thomas: When and how do you met Chris and Tim the first time?
GOOGE: Thomas, I think I was sixteen years old..My older brother had just got a copy of Frank Zappa's Hot Rats and I was freaking out how cool it was (around 1975)
(I think Hot Rats was released in 1970)... anyway
I ran out to my front yard where my neighbor John Russo was with his school buddy Chris Goss, and I just ranted on and on about how cool the Zappa album was...
Chris and I became really good friends from that point on. We aways discussed music and life and bullshit when we were together, or over the phone... Chris played in a 70's glam-bowie-rock band and I would hang out and run the lights or do sound sometimes...
Thomas: When do you enter the band?
GOOGE: Chris and Tim needed more synths...I had a real job, cleaning sewers, so they convinced me to buy a KORG Poly 6 and join the band and write a bunch of songs and learn a bunch of songs for a show at the Syracuse Landmark Theater in a week or so...
Another Masters of Reality Halloween special, except this time it was with a live drummer (John Magicaro) and a live synth (me) I think it was 1986...
My brain is kind of jellyfied, so it may have been 1985...
Thomas: When enter Vinnie the band?
GOOGE: Oh fuck, I have no idea, I can't remember, but we dumped the drum machine and I started playing bass and synth and Vinnie was a good friend of Tim's.
We did it prior to our showcases in New York City, maybe 1987 or 1988...
Thomas: Is there a short or funny story that you want tell us about the beginning time of the Band.
GOOGE: Short no, but I have one million stories...One funny night was the first time Vinnie Ludovico played with us in NYC, at CBGB'S...
We always used a LOT of fog machine, and Vinnie had a music stand set up with all of these notes for changes and breaks in the songs...
Well before we go on stage the fog machine fills CBGB'S and Vinnie can't even see his drum chair let alone his notes and all night I hear Vinnie screaming at the top of hid lungs, "Shut off the fog machine!" 'Shut the fucking fog machine, I can't see anything" I mean he just was going crazy, and I just was laughing my ass off...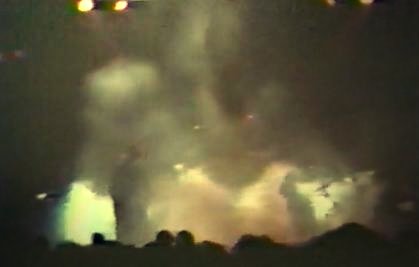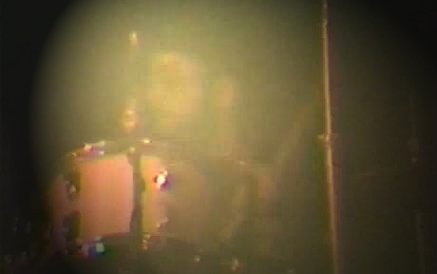 Masters of Realiy shows with many many many fog... Vinnie can´t see the drums...
Thomas: How was the chemie in the band, in the middle of the eighties before they got famous.
GOOGE: It was cool, when we played the shows, rehearsals could be a drag, but we always got our asses in gear and played fucking great shows...
THEY WERE HEAVY!!! very heavy..I don't think we ever "got famous"
but we did get a little weird after we signed a record contract with Def Jam and Rick Rubin...
Thomas: What feelings do you have now if you thinking about the Masters break in 1989?
GOOGE: I wept like a school girl... But that group of people had reached a serious breaking point...It was going to happen sooner or later.
Thomas: Do you got Contact to Vinnie or Tim after the break?
GOOGE: No, I spoke to them briefly and saw Tim once or twice, but I really have not contacted them...
Thomas: Who plays drum in the film "Marked for Death" (it was not Ginger)?
GOOGE: Mr. John Leamy...
Thomas: Can you remember for what band´s do you open the Gigs (I know Alice in Chains and King´s X where the Masterssplit happens) I hear that you got the offer to open the show for Metallica?
GOOGE: Jesus, I can't remember yesterday... hehehe.. Ramones, some euro synth (OMD??) and, Georgia Satellites, ummm, Beatles, Zep, Stones..etc...
Thomas: How goes it on with the band after Ginger Baker was leaving the band?
GOOGE: Ginger was not into the Rock N' Roll bullshit anymore and who could blame him... Victor Indrizzo was, and is a brilliantly talented drummer who can play any fucking style and groove like a mother fucker.
Victor had the swing, and he could rock, he fit in perfectly...
Just a natural evolution from Ginger to Victor...
What I meant to say was the transition from Ginger Baker to Victor Indrizzio was easy due to how damn talented Victor is!
Thomas: When enter Brendon and Victor the band and how they enter the band (over what connetion)?
GOOGE: Thomas, I can't remember, Brendon was a great friend of ours and could play a very mean guitar!
Thomas: How far are you integrated at the songwriting of the album "The ballad of Jody Frost"?
GOOGE: I ate a lot of cheesecake and burgers, one night I had two giant double King Burgers from Fatburger (with egg!)
Seriously, it was a joint effort of everyone who spent a lot of time (about six months)...
A lot of jams and a lot of rolling the tape...
Chris wrote most of the songs and everyone would add parts or help with the mix...
I would always say "Chris, I think the bass is too low, turn it up!" I did that all the time, Chris just loved it.... hehehe...
Thomas: When is your Birthday when I can ask you this question?
GOOGE: April 22, 1959 - Taurus (on the cusp)
Thomas: What bass type (or label) and which amp (amplifier) do you use at the Masters (and now)?
GOOGE: G&L 2000 Bass, Ampeg SVT (live and in the studio) Chris also loved to use a DI for the bass and add post effects later in the studio...
I own several basses, an old 1965 Fender Telecaster, a 1966 Hagstrom 8-string, a 1987 Kramer Farrington acoustic-electric, a Jerry Jones Longhorn bass, and my favorite bass now is a 1978 Rickenbacker 4001, black...
Thomas: What do you think about Stonerrock and things Chris are produced like Kyuss?
GOOGE: Fucking great! I loved all the early Kyuss and I think the evolution has been amazing to QOTSA. The combination of Chris and Josh Homme just gets better and better...
Thomas: What kind of music to you hear now?
GOOGE: Everything! My iPod has 55GB's and my home computer has 100GB's of music ranging from Armenian folk music to satanic voodoo chants...
There is not much I don't like...except maybe, smooth jazz and new American country artists...
Lately I have really been enjoying listening to hard rock from the 70's...
Midlife crisis I guess...
Thomas: How should be sounding the next Masters album?
GOOGE: Chris has a way of surprising everyone with each release...I know one thing it will be melodic and have lots of harmony...
Thomas: And which 5 favourite records you would pic up if you must stay on a lonely island?
GOOGE: Good question...hopefully my iPod washes up on the beach, but if I had to...
Beatles - White Album
Mussorgsky - Pictures at an Exhibition
Led Zeppelin - Led Zeppelin II
Charles Mingus - Mingus Mingus Mingus Mingus Mingus
Yes - Tales from Topographic Oceans
(and I have to add a sixth one- Masters of Reality - Sunrise on the Sufferbus)
Thomas: What hobby do you have (beside job, music and family)?
GOOGE: Computers...I love fucking with computers...Also, I really like camping in the woods and building very large fires!
Thomas: What is your favourite dinner and drink?
GOOGE: Wow, this is the hardest question you have asked so far...You see, one hobby
I did not mention that I may love above all, is FOOD... A favorite is almost impossible for me to decide on...
My answer would be too long for any web page to fit... hehehe...
Thomas: Next year is the 25. anniversary of the Masters of Reality. Do you would play for some gigs for a reunion if Chris ask you? Or would you help out with your Masters lore to make a 25. anniversary Masters of Realtiy DVD?
GOOGE: Sure...as long as the song has less than three chord changes, I may be able to participate...
Thomas: What happens after you leaving the band until now and what want you say to the Mastersfans?
GOOGE: I just want to say that from 1987 to 1997 I was the bass player for Masters of Reality....The coolest band in the world... It was an amazing ten years!

The music we made still floats around in the universe influencing many modern bands... We rocked, and we had melody
and it was a fucking great time!
In 1997 I had my first child, a son Mason. I decided then, that I needed to move away from music and get a steady job...

I was a whiz at computers and I landed a great job at a Hollywood Post-Production facility that makes television commercials...
I am the Systems guy, the IT expert...

Basically I fix broken computers really fast and make a ton of money, and I can support , my now, two children, my son Mason 8 years old and my daughter Maxine 2 years old...

I still play music and write songs, but mostly they are lullabys on guitar for my two great kids... I have not spoken to Chris Goss in about two years, not out of animosity, but just out of stupidity, and it is just my nature that when I quit something , I completely quit it...
But I still love Chris and the Masters, and the great CD´s he has produced and recorded.
I am sure someday Chris and I will get together again and jam... Just hope someone has a recorder going and you can get some more RARE Master's bootlegs...
Thanks Thomas, for keeping the Master's loyalty alive and spreading the gospel of MOR! Lord knows we were always five years ahead of the times...

Keep rocking everyone, the world is quite a fucked up place at the moment, and music is a universal language that is always in everyones minds and souls...
Believe in what you want, and you will get it, and always trust your heart....
Be cool everyone...
I really want to say to all the Masters fans, thank you!
and to Chris Goss, thank you and love!
Vic "the stick", hugs and kisses!,
Brendon, kiss to you too!
Leamy, you fucking rock!
Ginger, what the fuck you doing mate!
and Thomas keep doing a great job on a very cool web site!
GOOGE
Thomas: Googe, thank you very much for this greeeat and funny interview! Mary Chrismas to you and your family and a happy new year!