Interview © MixOnline
von Maureen Droney 01. Februar 2004
L. A. Grapevine
In these troubled studio times, Sound City, in the Van Nuys area of the San Fernando Valley, remains one of the busiest studios in town. A rock 'n' roll haven that's changed little in décor since the '70s, it continues to attract those who like their comfort low key, and who prefer vintage Neve 80 Series consoles combined with good-sounding live rooms. Studio manager Shivaun O'Brien confirmed that 2003 had been a banner year, and I dropped in for some hints about what keeps the clients coming. On the day I visited, Studio A was locked out with Tom Petty, producer George Drakoulias and engineer Jim Scott, so I couldn't get in for a look. But while wandering the halls, I found producer/artist/multi-instrumentalist Chris Goss waiting for his Studio B session to get rolling. Goss, known for his own band, the critically acclaimed Masters of Reality, as well as for his work with Stone Temple Pilots, Queens of the Stone Age and its influential predecessor Kyuss, is the kind of artistic producer who's always a bit ahead of the curve. His current project, Eighties Matchbox B-Line Disaster on Universal/Island Def Jam UK, is no exception. We adjourned to Sound City's newly spiffed-up TV lounge (okay, it's true, at Sound City, even a new couch is big news) so he could tell me about it.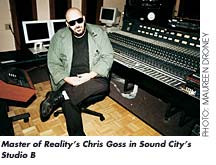 Goss, who says he's in the process of simplifying his life, lives in the small town of Joshua Tree, out in the high desert beyond Palm Springs. When he's ensconced at Sound City, he bunks at a hotel a few minutes away and narrows his world down to studio and sleep.
Because Eighties Matchbox is a five-piece from Brighton, England, I was curious as to how they'd hooked up. "About two years ago, I got a demo of theirs," Goss explains. "Only, maybe, one out of 50 demos catches my ear. Most of them just seem to be mimicking what's going on in music at that particular moment. You know, when Creed and Nickelback are on the charts, all the demos sound like them. When Linkin Park and Korn are on the charts, all the demos sound like them. So when something comes along that doesn't sound like the top of the charts, that's what I notice. I'm always looking for something to fill that missing slot, that thing in your head that when you're listening to KROQ, you know you're not hearing. These guys are like that."
Goss wanted to work with the band as soon as he first heard them, but nothing came of it at the time. But two years later, he says, "Because of the work I'd done with Queens of the Stone Age, the band and people at Universal Records sought me out. It's really the best way to hook up with a project — to be mutual fans. And we also got along very well."
Goss describes the band's music as having elements of everything from Captain Beefheart to Nirvana with "wonderful, unusual chord progressions and harmonies, and atonal hooks. It's really good," he emphasizes. "People light up when they hear it. And it's especially amazing because they're so young, yet so musically educated. Their average age is 21."
At Sound City, Goss usually works in the larger Studio A, where the console is a custom Neve 8028 containing rare 1085 EQs. This time around, he used B (where he also recorded Queens of the Stone Age's R) with its 40-input 8078, Flying Fader-fitted desk for three trial tracks he'd recorded with the band. Goss understands the importance of the right sound for the right project; when he found that something clicked with the band in Studio B, that's where they returned to cut basics for the entire album. "Everybody's close together, sitting around in a circle," he says, "even while the drums are being tracked. It's a great room for getting that kind of camaraderie going. It's also got a nice, tight sound that works especially well for this particular project. Because of the unusual polytonal nature of the music, I need a lot of definition in the drums. I wanted a more close-up sound than I normally use.
"If people are hearing a G major to a C major chord with a 4/4 drumbeat, it's easy," he elaborates. "But if you're hearing a G major to a D flat major, you need to have the sound of one totally defined. We want to take this very original music and make it accessible. If it was recorded like a garage record, it would be an underground record that no one would hear. I think these guys deserve accolades for what they've developed; they deserve to be played on the radio. So, while the songs are very original, they're also palatable for radio and very commercial. Finding the complementary sonics helps to do that."
About Sound City, Goss says, "It's been a home to me for a few years now. A lot of it is the vibe. Too many studios look like Darth Vader's living room. You feel like if you spill something, a robot is going to come out and hit you. Here, I feel like I'm in my friend's basement game room. It's lived-in, and that's reflected in the music that's made here. People don't come here to make anal music. Sound City is a rock studio."
In spite of a wide-ranging and prolific list of credits, Ric Wilson's Northridge-based Digisonics remains a well-kept secret. Since 1992, when Wilson founded the company, which specializes in digital restoration, editing and mastering, he's worked on nine Grammy™-winning albums, restored collections for Jimi Hendrix, the Beach Boys, The Carpenters and Barbra Streisand, served as assistant music editor on such films as The Client and Michael Mann's Heat, mastered dozens of other film soundtracks, and has edited and mastered more than 80 children's book and tape products for Disney, Henson and Sony Wonder. In between all of this, he's also found time to consult for Microsoft, Digidesign and DreamWorks Interactive, and to use his skills as a forensic audio specialist for serious heavyweights: the FBI, CIA, FAA and LAPD.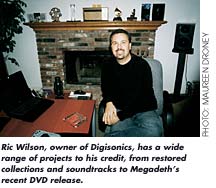 Digisonics is all-digital, Sonic Solutions-based — and mobile. These days, it's also heavily involved in DVD production. One of those who recognized the potential of DVD early on, Wilson has worked closely with DTS on many prestigious projects, and has become expert in both DVD mastering and authoring, garnering, in 2003, a Surround Pro Award for his work on Queen's 5.1 release of A Night at the Opera.
As an expert with five years of authoring under his belt, Wilson is a proponent of the standard DVD format, arguing that its already accepted video format is less restrictive to create than current audio-only formats. "It's much more work to produce a DVD-A or SACD disc," he points out, "and there are a lot of programming features that the specs just don't allow. That's why we have to make hybrid discs: part DVD-V and part DVD-A. It really doesn't make sense when, as with DTS, we can do 96/24, full surround on a DVD-Video disc that supports moving images. The debate is that MLP [Meridian Lossless Packing], the required audio format for high density on a DVD, sounds better. But, in double-blind tests, I've found most people can't tell the difference."
Although Digisonics uses a Sonic Solutions workstation, Wilson easily transfers all formats, including Pro Tools session files, into it. "Sonic has been, since the beginning, the best-sounding system," he asserts. "In the last couple of years, the other systems have made huge leaps; Pro Tools, Nuendo and SADiE all sound good. But there's still something about the Sonic algorithms. They're just so good, very clean and warm-sounding. A lot of engineers notice the difference, and a lot of my clients come to me particularly for that quality."
A recent project Wilson is particularly proud of is Megadeth's DVD release, Peace Sells, But Who's Buying? "[Producer] Jeff Levison had the great idea to take one of the songs, 'Devil's Island,' and have it mixed six different ways," he explains. "There's the original full mix; a drum 'n' bass mix; drums, bass and [guitarist] Dave Mustaine; drums, bass and [guitarist] Chris Poland; just rhythm guitar; and no drums. We call it 'musician's karaoke'! You can play along and do your own thing in full surround. It's just one example of the fun things you can do with this format."
Asked to describe his mastering philosophy, Wilson replies, "Whether I'm doing an album or a DVD, I believe it's important to remember that we're making a whole product and not just a collection of material. There's a feel to the whole thing. Some mastering people have a specific sound or they tell a client how it should sound. And some just work song-by-song, adding compression and EQ to each song individually. That's not what I do. I like to get a feel for how each song is going to work together in the sequence before we start putting anything on it. I don't rely on the compressor to level everything. I think in the end it makes the albums breathe more and ultimately sound better, and I guess my clients agree."