Interview © Arthurmag.com 07. Mai 2004
von Jay Babcock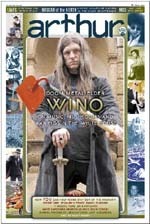 Come on in my kitchen...
New Orleans Soul Red Beans, Rice and Corn Bread recipe by David Catching
Here's an old "Come On In My Kitchen" column from Arthur's getting-rarer-by-the-minute March 2004 issue. Our star chef that issue was Dave Catching, gentleman guitarist of Joshua Tree, California…
David Catching is currently a member of earthlings?, Yellow No. 5 and Mondo Generator and appears on The Desert Sessions Vollume 9 & 10 (Rekords Rekords/Ipecac). Take it away Dave…
Hey y'all, Mardi Gras season is here and I hope you're lucky enough to be celebrating it with me in New Orleans. If you are, you're probably drunk, still drinking, dancing, chasing members of the opposite or same sex all night, and will be pretty tore up tomorrow. Here's a little recipe I learned from my friend Jimmy Ford at the Jimmy Ford Clinic (thanks for showin' me the way) and my friend Chef Big D, of the now-defunct Harbor Bar and Restaurant (R.I.P.), both of New Orleans, Louisiana. It's easy and oh-so-cheap, which will be helpful while your scrambled brain tries to figure out what you spent all your money on. I'm giving you the vegetarian version here, but it's also killer when cooked with smoked sausage. It ain't my fanciest recipe, but it is great and will cure the meanest of hangovers for pennies. Regarding Tony Chachere's Cajun spice: if you can't find it in your neighborhood stores, I would recommend a trip to New Orleans. That means you're probably overdue for at least a weekend there anyway…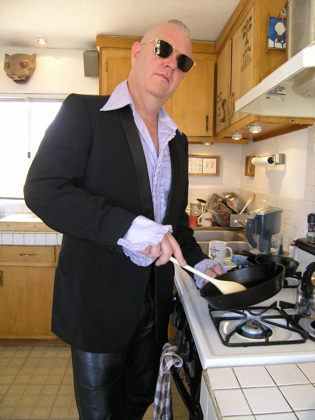 New Orleans Soul Red Beans, Rice and Corn Bread
feeds six tore-up folks
one pound dried red beans
two cups white rice
one yellow onion
one half red onion
eight cloves garlic
two vegetable bouillon cubes
two tablespoons Tony Chachere's Cajun spice
three pinches salt
two pinches black pepper
one pinch white pepper
one cup water
one box Jiffy cornbread mix (I know, but real soul food restaurants really do use this mix)
one jalapeno pepper
six ounces grated cheddar cheese
one egg
one cup milk
optional: one pound smoked sausage cut in one-inch length pieces
Wash and soak red beans overnight and rinse. Add water and boil beans until cooked, then simmer on low. Saute onions and garlic, with spices. Add onion, garlic and spices to simmering red beans and cook a few hours to taste. Follow rice cooking instructions. Follow Jiffy cornbread mix directions, then add chopped jalapeno pepper and most of the cheese. Sprinkle remaining cheese on top and cook per Jiffy cornbread mix instructions. Serve a mountain of beans (with or without the smoked sausage) on a nice thin bed of rice.
My first taste of this particular recipe was at the Harbor Bar and Restaurant (the best soul food joint anywhere, ever) on Mardi Gras Day, 1993. This was without a doubt one of the best days of my life. I marched with the Lions Carnival Club, starting at 6am, with our second line brass band leading the way, from the sparse uptown gatherings, through to the thousands gathered at Lee Circle with Rex and Zulu, finally reaching the unbridled revelry of the French Quarter at 3pm, our costumes and masks obscuring the awe and joy we all were experiencing, some of us having imbibed many brands and colors of hard alcohol, psychedelics, prescribed and non-prescribed medications, marijuana and, from what I can gather through hearsay and gossip, stimulants of all kinds. In the madness of Frenchman Street at sunset, I met a beautiful stranger, who led me to the Harbor Bar and Restaurant. There, I was saved by the red beans and rice… ….and a double turkey and seven.