What Marlon Brando is for the Corleone family, that is the heavyweight Chris Goss for the stonerrock: The Godfather. 14 years ago, there was this Masters Of Reality's sametitled debut (also known as "The Blue Garden") , and since then it's the blueprint for absolutely everything that has got something to do with rocking joints on a desolate desert. Kyuss, 7Zuma7, Queens Of The Stone Age, Fu Manchu, El Caco…they're all tributary to that magnificent debut. But instead of working that sound out, Chris and his Masters decided to play a more lightful, airy kind of rock. In 1992 they released "Sunrise On The Sufferbus" and one of the bandmembers of that time was the legendary drummer Ginger Baker (ex-Cream and for the first time in almost 15 years he played drums on a rock-album that time!). But the problem was that Ginger, 54 years old at that time already, wasn't in the mood for touring. Together with the exploding grunge-hype that time, the record didn't do very much. And after that, it became very quiet with the Masters. Chris went on producing for other bands (Kyuss, Ian Astbury from the Cult, The Flys, Soulwax from Belgium and so on), their next album "The Ballad Of Jody Frosty" was in the eyes of record-company Sony not good enough for a release (and later Chris admits that they were probably right) and the only sign of life was the release of a live album "How High The Moon" in 1997. Then finally, in 1999, 7 years after "Sunrise" there was another studio album: "Welcome To The Western Lodge". A very relaxed album with lots of bluesy rock, but with hardly any stonerelements again. But those elements you could find on stage. The Masters went on tour again, they played for instance on the Dynamo fest in 1999 and also in Paradiso (or was it the Milky Way? I couldn't remember it clearly). But on stage they played their "smokey alternative bluespop" with a very loud, stony performance. Last year's album "Deep In The Hole" will finally let you hear why this band is called the godfather of stonerrock. With songs like the "Third Man On The Moon" Chris is steamrollin with magic riffs and crushing grooves all wannabe-stoner under a pile of dusty gravel. He still rocks like the best! Earlier this year there was this re-issue of that live-album, only with another sleeve and with another title: "Reality Show". And recently a second live-album appeared, "Flak 'n' Flight", with recordings of their European tour last year's autumn. Based on only 4 studio albums it maybe sounds a bit too much or too soon, releasing a live-album again, but Chris had an answer for it.

Wat Marlon Brando is voor de familie Corleone, dat is de kegelronde Chris Goss voor de stonerrock: The Godfather. 14 Jaar geleden verscheen het titelloze debuut (ook wel 'The Blue Garden' genoemd) en deze plaat geldt sindsdien als blauwdruk voor alles wat maar enigszins met ro(c)kende joints en verlate woestijnlandschappen te maken heeft. Kyuss, 7Zuma7, Queens Of The Stone Age, Fu Manchu, El Caco…allemaal zijn ze schatplichtig aan dat geniale debuut. Maar terwijl deze en andere tientallen bands de stomende stonersound verder uitstofte, daar ging Chris met zijn Masters al vrij snel een ander, luchtiger geluid maken. De in 1992 verschenen 'Sunrise on the Sufferbus' liet onder meer een drummende Ginger Baker horen (de Cream-drummer dat toen voor het eerst in 15 jaar weer aan het rocken sloeg!) en een veel poppiër, opgewekter geluid. Omdat de toen al 54-jarige drummer geen zin had om te touren en in de tussentijd ook de grunge-hype explodeerde, heeft die plaat toentertijd niet veel gedaan. Daarna was het lang, heel erg lang stil.
Chris sloeg aan het produceren (o.a. Kyuss, Ian Astbury van The Cult, The Flys en het Belgische Soulwax), de volgende plaat "The Ballad Of Jody Frosty" werd door Sony niet goed genoeg gevonden om uit te brengen (en Chris geeft hen achteraf wel een beetje gelijk) en het enige levensteken van de Masters zelf was een in 1997 uitgebrachte liveplaat "How High The Moon". Toen, eindelijk, in 1999, 7 jaar na "Sunrise" verscheen er weer een nieuw studio-album. "Welcome To The Western Lodge" heette deze en was een bijzonder relaxte plaat met wel meer dan een ondertoon aan bluesy rock. De zogenaamde 'stonerrock' waar de Masters nog steeds mee werden geassocieerd is in feite in geen velden of wegen te vinden. Op het podium wel. Ze stonden o.a. op Dynamo '99 en in de Melkweg (of was het nou toch Paradiso?) en daar werden de veelal relaxte, rokerige "alternatieve bluespop" flink stevig vertolkt. De vorig jaar verschenen 'Deep In The Hole' liet eindelijk ook weer op plaat horen waarom deze band zo onlosmakelijk met stonerrock is verbonden: met nummers als het verpletterende 'Third Man On The Moon' stoomwalste Chris met magische riffs en grooves alle wannabe-stoners aan de kant en liet horen dat hij zelf nog als de beste kan grindbaggeren. Begin dit jaar verscheen de eerste live-CD opnieuw, in een andere hoes en met een gewijzigde titel: "Reality Show".
En onlangs verscheen er weer een live-album 'Flak 'n' Flight', met opnames van de vorig jaar gedane Europese tour, waar ze onder meer neerstreken in een door de VPRO opgenomen concert in de 013. Op basis van slechts 4 studioalbums lijkt het wellicht een beetje te vroeg om nu al met een 2de live-plaat uit te komen, maar daar had Chris wel een antwoord voor klaar liggen.
THE INTERVIEW

Had you any influence in releasing this live-record?

Actually it was not the idea of the record company. A friend of mine, a photographer named George DuBose, who lives in Cologne and is very famous of his work with lots of B-52's and Ramones albumcovers (like "Brain Drain" en "Adios Amigos", EDS), came with this idea. We've been friends for years and when he came to our shows for making pictures of it he said to me that I should tape these shows and release them for a live album. At that time we were already taping them, but to release them on a live record was actually his idea. And I think it's a good idea, because it was the only time we played together with Josh Homme and Nick Oliveri from The Queens Of The Stone Age. And there probably won't be another Master Of Reality line up like that. They were very good, and okay, who knows, you know… But I'm glad it was documented and it was a good version of the band for everyone to hear. I'm happy with the idea. And I've been asked a lot that it's clever idea for this album, just now with all this Queens Of The Stone Age-success at the moment. But really, it-was-not-that-way-at-all! It was recorded already a year ago.

And there was another very famous guy standing next to you to do some vocal lines. Damn, why wasn't he only in England, and not for example for the show in Holland?

Well, only the 4 UK shows were with Mark Lanegan (The former Screaming Trees-singer, EDS). We did those shows together with Mark's own band. And the tours just split off after that. That was just the way it had to be. Booking agencies and so. But I'm producing his solo record and the basic tracks are done now. You know, bass, drums, guitars. And I promise you: it's gonna be good! No, I didn't produce his previous solo-albums. I sang and played a little bit on some of his past stuff, but I never produced the whole album. This album will be more powerful, darker and louder, I think.

This live-album was recorded on your European tour, last year. And the booklet tells me nothing more than that. But in fact it's only recorded during 2 show, I guess. Only in London and in the 013, Tilburg, isn't it?

You're half correct. Actually, it's recorded in Tilburg, London, Kent, Frankfurt and Hamburg.

I remember your show as a really warm, relaxing but also groovy gig. It seemed that you were having a really good time.

Yeah, that's what I like to do.
Masters of Reality are contributing a song to a forthcoming George Harrison tribute album, Songs From The Material World, scheduled for release by Koch Records on February 25th
Which song are you gonna cover?

Oh, it's already done. It's called "Devil's Radio". And it was on his 1987-record "Cloud Nine", you know, with that hit "I Got My Mind Set On You". The song was recorded around the time he was in the band The Travelling Wilburys (a band with also Roy Orbison and Tom Petty, EDS), so I made it sound as much unlike The Travelling Wilburys. Not a very good idea to make it sound the same, obviously. But it's a really cool song. The lyrics are very contemporary, about "the whole truth today and the evil media". I've always loved this song. And now I cut it with Twiggy Ramirez, from Marilyn Manson. So it's a lot rawer than George Harrison's version and it was a pleasure to do it.

I also expected that you said something about George Harrison, when you played last year in 013. Because that evening, it was only 5 days after he passed away. But you didn't…

The day that he died we played Glasgow, Scotland. And I came up and opened the set with "My Sweet Lord". And I think that was enough.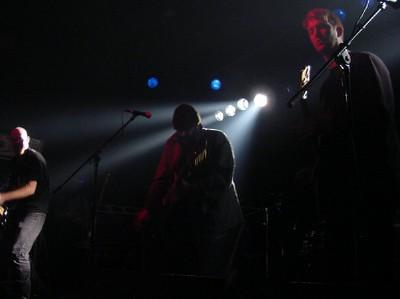 Instead you played cover 'Cretin Hop' from the Ramones. You didn't play this one in Holland, but on the shows you played it, it was as a tribute to Joey Ramone, I suppose?

Yeah, definitely…(whispers)

Is this new album also gonna have its US-release?

No US-release yet, but it's available on our website for US-fans. But until now not in the shops. And I don't really care: I go where I'm asked to go, wherever appreciated. And the US labels right now are quite a mess. The big labels are so big that they don't know what they do, and the small labels are too small to compete with the big labels, or they're too stupid. It's a big mess over here. So I kinda waiting for it sorted out.

And what about the other albums? 'Welcome To The Western Lodge' have finally have its US-release. But some with different mixes?

There's one remix I did on. Only one. I always wanted to. So when Spitfire re-released the record, they said to me: "Is there anything that you wanted to do different with the record for the US-release?" And I said that I wanted to remix the song "The Great Spelunker". Sometimes, after a record comes out, you finally figured out what should have happened with the song. So, that's what happened. But there lots of them I could improved.

Well, I don't think you're making such bad music. But when you're looking back on your music, you think you would have done some things differently?

Yeah, sometimes. I don't try to recreate the same picture all the time. I think that drives music-artists mad. One of the fallbacks of being a music-artist is that you reach an emotional high when you perform music. Different pieces of music. And then years go by and you don't reach the same emotional high. The performance turns out to be a failure, ultimately. Whereas painters paint the painting once, and that's it. Instead of recreate the same painting all the time, it's "Next painting please". So I tried to do the songs differently as time goes on. If I dó change them, I do achieve a different high then the first time. And that's the only way to do it for me.
Just like jazz-musicians? Prefer improvising instead op copying your own song thousands and thousands of times?

Right. And I think that's part of what drove Jimi Hendrix mad. Towards the end of his career a lot of his improvisations on stage and what he achieved on stage, the moment of creation, was magic. There was just pure magic going on, he didn't even planned on! It just happened. It was spontaneous. And as time went by, I think, he got bored with recreate his music. He wanted to move on with different things. But people still wanted him to smash up his guitar and playing his guitar behind his back, be a wild man and so. He got burned out very, very quickly. I think fusion was his direction. Hook up with Miles Davis, Herbie Hancock, John McLaughlin and so. Those early fusion bands started from a more spiritual path, instead of a drug-path. So I think that could probably saved his life too. But you'll never know, it maybe had turned out awful.

Back to your own musicmaking projects. What can you tell us about the side-project "The Eagles Of Death Metal"? Is that like playing The Eagles in a death metal style?

(laughs) It's a three piece band. Josh Homme is playing drums. I play…what, yeah, you heard it right: Josh is playing drums. I play the bass and Jesse Hughes, who is a desert-boy, he sings and plays guitar. And it's death metal-blues. And that's one project to be recorded soon and another band I'm playing in is one I started with Twiggy Ramirez. Yeah, we have a band now. No, it's too premature to give you the bandname, but the style is "burn the house down!". (laughs)

I have a friend, and she really hates metal and hardrock, but she's very fond of rock&roll. She was once even a finalist in The Dutch rock&roll-dance contest. So I let her hear that song "She Got Me (When She Got Her Dress On)". She was absolutely crazy about that song. It became one of her favourite tunes. Don't you ever think of writing more tunes in that rock&roll-vein?

Cool! But actually on that album of that song "Sunrise On The Sufferbus" there was another song that's called "Tilt-A-Whirl". That got a shuffle in it (Chriss demonstrates now how a shuffle goes, EDS), and I love that beat! And I have another song that hasn't been released yet, and actually I have a couple of recordings of it but I'm still not very happy with it, and that song is called "Root Beer". And another song called "Swingeroo Joe", that was also recorded on our first live-album, has that same beat too. So, it's more a shuffle-beat, you know. Not rock&roll. Once, I was almost tempted to do a whole record of that kind of music and call it "Sunrise On The Shufflebus". And maybe I still do it, cause I love playing that beat. And it's really cool and I understand what that girl means. There's something about it, it's really old school, but yes, really manic and crazy. It's almost a throwback to the 1930's, that style.

You said once that 'Welcome' is like the B-side of 'Abbey Road' and your last album 'Deep In The Hole' is its A-side. So what (Beatles)album do you have in mind for your next album? Well, I do not know every Beatles-record by heart, but I like "Revolver" a lot. Nod, nod….

Actually the next record it's put together already and will be recorded next Spring. It's collected over the last 7 or 8 years. And it's mainly acoustic, but not necessarily mellow. A lot of those music was unable to fit in on our other albums, but some of it are my favourite stuff ever, actually.
Is that also some of the stuff you played acoustically solo at the show in The Knitting Factory, last year?

Well, it's not live, but some of the songs were done at the Knitting Factory, that's correct. The songs will be in the same style as that show. I think 4 or 5 of the songs we played at the Knitting Factory will also be recorded as studio versions for our next album.

I know that you are something like a walking music encyclopaedia. But in the interviews I've read with you, you were especially very enthusiastic about the sixties and seventies. Do you also follow the modern rock-scene, besides Kuyss-related bands?

Of course. One of my favourite records in a long time is the Strokes record. And I love the Hives, White Stripes, The Vines, I think Black Rebel Motorcycle Club is all right. But The Strokes excited me more than a lot of stuff in a long time. There's something about that record that grabs me.


PROFILE CHRIS GOSS.

Chris has to make a choice, so maybe we know him a little, tiny little better afterwards.

Morning person / night person:

Morning!

Shy / Self-confidence:

Shy

Optimistic / Pessimistic:

Optimistic

Leader / Follower:

Leader

Lazy / Workaholic:

Lazy (laughs)

Thinker / Worker:

Thinker

Alfa / Beta:

Alfa

Stubborn / Pliant:

Pliant

Fighting / Running away:

Running away

Jealous / Naive:

Both

Melancholic / Happy:

Melancholic

Romantic / Down to earth:

Romantic

Spiritual / Rational:

Spiritual

Misanthropic / Hippie:

Hippie

Environment / Economy / A successful mix of both:

I think economy.

Right wing / Left wing:

Right wing

Gardening / Standing on stage:

Hahaha! Tricky question! But it's standing on stage

Shopping with your wife / Writing new music:

Hahaha! Shopping with my wife!

Drinking absinthe / Listening to the last Queens of the Stone Age:

Drinking absinthe! (giggles)

Amsterdam / Your own city:

Amsterdam (Okay! Thank you very much! EDS)

Smoke a joint / Singing "Third Man On The Moon" to Pete Conrad?:

Hahaha! Smoking a joint.

Beatles / Black Sabbath:

Beatles

John / Paul / George / Ringo:

John.

Ren and Stimpy / Cow and Chicken:

Ren and Stimpy. (Masters Of Reality once recorded music for Ren And Stimpy, that's why this question. EDS)

What song would you loved to have written yourself?

What's that song called by Cracker? "Being with you girl like being low. Hey Hey Hey like being stoned". You know what I mean? No? Well, it's at least 5 years old. I wish I had written that.
(Later I found out that this song is called "Low". EDS)

What are your favourite 3 albums? At this moment.

Yes – Tales From The Topographic Ocean
Led Zeppelin – IV
And The Strokes of course.