Interview © Rock Sound
von Owen Packard, 2001
Foto von Nigel Copp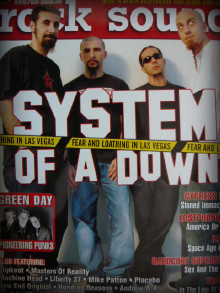 Stoned Goss Hard
Chris Goss has lived and breathed rock music for longer than you've been out of short trousers. Not content to front and bash guitars in the awesome Masters of Reality, he has also carved himself a rather tasty career as a producer extraordinaire, helping to shape and refine the work of artists like Stone Temple Pilots, Ian Astbury, Queens Of The Stone Age and, most famously, Kyuss. He's a bit of a legend really.
His current album, entitled Deep In The Hole, is an awesome blend of massive rock grooves and innovative melody with an ever-present, twisted pop sensibility. Masters of Reality (completed by longtime collaborator John Leamy and a host of guest musicians) offer up a complex dish in an era of junk food minimalism.
With this in mind it shouldn't surprise you to learn that one US publication famously described Masters of Reality as sounding 'like a mix between Black Sabbath and The Beatles'. Incredibly, given the vast musical landscape this proposed coupling covers, Mr. Goss disagrees.
"We're just riff rock with harmony vocals," he states matter-of-factly. The suggestion that this description could also refer to Linkin Park is met with the suitably caustic response: "the words 'Beatles' and 'Linkin Park' belong in different universes!"
Indeed there is clearly no love lost between the otherwise-affable Goss and the current slew of nu-metal titans. He is from a different generation (being a youthful 41) and a totally different mindset. When quizzed on contemporary rock music, Goss intones "rap-rock bands just don't sound warm to me. I prefer heavy music to embrace me. I like to get thrashed around by it for sure, but without the stupidness. Trying to combine heavy, scary music with Beastie Boy humour is just pitting one style against the other and weakening both."
But isn't a lot of rock music too po-faced and serious? Don't we need an injection of humour?
"Yeah, but not just American car crash humour. Not just fart jokes. The humour in our stuff probably goes over a lot of people's heads - unfortunately. It's about fucked-up word play. More like Lewis Carroll than Mike D!"
The man certainly has a more intellectual approach to music than your average baseball cap-wearing monkey. With references to "contextualising music within mythology", and "groups developing a suitably individual aesthetic", Goss talks about his plans to visit a surrealist art display at the Tate Gallery during his time in London - hardly the actions of a poster boy for mindless, rock 'n' roll debauchery. "I'm a weirdo. I'm not a hunky rap-rock kid, endorsed until the year 5000. That was never my place. I was never gonna play basketball on MTV Sports with Flea and Anthony Kiedis."
Maybe not, but his more esoteric approach to music is all the more fascinating in an era when sterile, marketing manipulation is often a replacement for creativity. Goss is an avid believer in the purity and force of music. "The recording process has to be enjoyable man. It's a rejection of uptightism! It's not about being on time and keeping business appointments, or how much you're getting paid to wear an ugly, piece-of-shit T shirt."
"It should be about musician's minds in a room - connecting. And knowing that they have something special because of that moment their minds met. When a harmony or a turn in a song happens because of synchronicity and...," he struggles for the word, "...weed!" Ahhh, yes. The ubiquitous marijuana. Stoner rock could hardly have a greater affiliation (look at the name for God's sake). But is it truly a tool to enhance creativity? Goss just smiles and says "yes", but does look bemused by the implication that his band is a stoner rock act. Sadly it's a reflection of our cultural obsession with reductionism that we always try to compartmentalise bands like Masters of Reality. Despite straddling genres with the ease and grace of a bow-legged octopus, Goss' vision is inevitably defined in hopelessly simplistic terms. But where does he see his band?
"Put us in the electro-turd section, I don't give a shit. The music is there for people to find. And if people get it and turn their friends onto it - cool, wonderful. But, you know, I'm not looking forward to a collaboration with Britney Spears."
Despite a lengthy career in music (he started buying records at age five), Goss has maintained a passion and drive for music that almost crackles around him like an energy field. Whether he is discussing his contribution to the 'Ren and Stimpy' cartoon (a psychedelic track called 'Climb Into My Belly Button World') or his work on movie soundtracks (including 'Tank Girl' and 'Strange Days'), there is always a sense that he simply delights in being a conduit for musical expression. "In everything I do, the ideology that works for me is a simple rule. Serve the song. The song's ego is bigger than anyone else's. If you serve the song you can't lose."
Of all his endeavours Goss displays the most noticeable pride in Kyuss. After "being blown out the door" by them at a show in '90 he insisted on producing them. And he has been working with them (and latterly Queens Of The Stone Age) ever since.
"I knew the moment I saw Kyuss that I was dealing with a very rare and special talent. People will be listening to Blues For The Red Sun and Welcome To Sky Valley 50 years from now, I have no doubt about that. They were the best heavy band in the world at one point. You know they turned down a tour with Metallica in '93 because they didn't want to be paired with a metal band. But they could have given Metallica a fucking run for their money. They could have fucking blown them away." And you know what, I think I agree.