Interview © Rip 1991
von Troy J. Augusto
FRESH BLOOD, BOGEYMEN
In these days of speed/thrash/glam/grindcore/ whatever metal, it's always nice to find a new band that just rocks. Syracuse, New York, has given us just such a combo in the Bogeymen, a group that formed in 1988 out of the ashes of the original Masters of Reality. Their debut, There Is No Such Thing as the Bogeymen, is a hard-hitting, eclectic album, full of fire and attitude.
Tim Harrington, who handles both guitar and vocal duties for the band, sees their use of different styles as one of the biggest strengths of the Bogeymen. "I'm not a fan of records that sound real formulated, where the songs are all alike. To me, music is much more interesting if you hear a left curve once in a while. Our song 'Damn The Safety Nets' starts out sorta jazzy, and then just turns into a stomper at the end. I don't ever want to be tied into one particular shtick. As long as it rocks, that's what I'm looking for."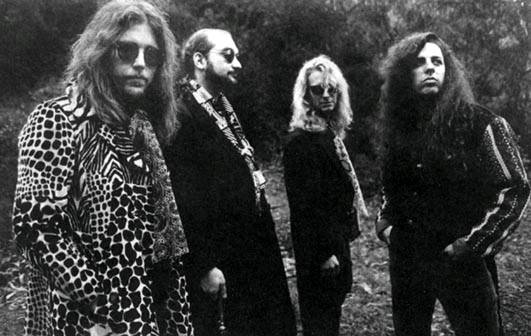 And rock they do. Songs like 'Suck You Dry' and 'Dancing On Your Grave' (not the Motorhead tune) are street-smart, pure rockers that make an instant impression. That immediacy might be credited to the closeness of the members of the band, as they've all previously worked together. "It's good not to have to go looking to find the right players," says Tim. "Creamo Liss, our bass player, is one of the best rock bassists around, bar none. A lot of people are knocked off track when they hear George [Rossi, keyboardist] throw in some organ or a boogie piano. And, of course, I know Vinnie [Ludovico], our drummer, from Masters. He's got a lot of balls. I like the whole quality of the band - or lack thereof!"
The Bogeymen's sound and attitude will attract all rock fans with its genre-busting, guitar-heavy sound and in-you-face aggression. "I like to call it a real heavy cabaret," adds Tim. "This is where I've always wanted to be. We didn't have anyone breathing down our neck, telling us how to make our music. Maybe that's commercial suicide, but so what!"