I wan´t Candy
Back in February last year MASTERS OF REALITY came from outta nowhere, signed to the Def American label, released a seif -titled LP and ended up on the cover of Kerrang!.
However, alter such a high profile Start, things soon turned sour for this retro-rockin' crew from Syracuse, New York state. Despite rave reviews, the album failed to take off.
Then mainman CHRIS GOSS split in the middle of an American tour, and the band's career came to untimely end. Or did it? A year-and-a-half down the line, DON KAYE detects some mysterious new stirrings in the Masters' camp...
The music biz can be truly wacky at times. Where else could a band get a Kerrang front cover, unanimously favourable reviews for a brilliant debut album, watch that LP do little to nothing in sales even as it's being praised to the high heavens, and then get a second chance from a new record label after the first company couldn't break the album?
Only in the music biz.
Such is the strange story of Masters of Reality, the excellent retro-rock outfit from Syracuse, New York who struggled for nine years before being picked up by Def American Records, home of rap 'n' Satan master Rick Rubin.
Rick's previous forays with Public Enemy, Run DMC, Slayer and Danzig were almost predictable compared to his signing of the Masters, who draw heavily upon the late 60's/early 70's mystique of artists like Cream, Hendrix and early ZZ Top.
But despite a solid job with the self-titled debut album (occasionally known as Blue Garden), the label and their distributor Geffen couldn't crack the US and the bottom fell out in the middle of an American tour, when singer/guitarist/guiding light Chris Goss split, taking bassist Googe with him and leaving axeman Tim Harrington and drummer Vinnie Ludovico in the lurch. It seemed reality had intruded in this bunch, for sure.
But leave it to the music biz. Within a year, the album has been picked up for release by the Delicious Vinyl label, home of rappers Young MC and Tone Loc and another bizarre homestead for the Masters' heavy tones.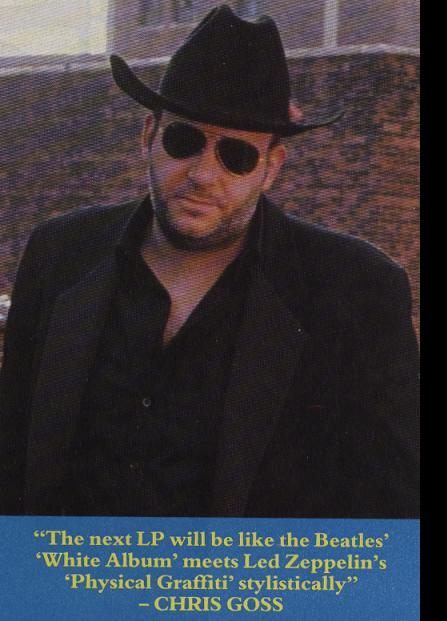 To be honest, I'm not quite sure what the UK release situation is, but Chris Goss and myself recently got a chance to sit down in New York for a proper update on the Masters' manipulations.
"The first album has now been re-released by Delicious Vinyl, they feel it didn't get the shot it deserved," says Chris at the crack of the bat. "They're really into the music and they're rock 'n' roll fans. Everyone knows Delicious Vinyl is a soul and rap label, so it's really flattering that both times it's been soul producers who've been into the record. So it's kinda cool that people who are into a good beat are into the music.
"That's it, basically. The band has reformed, we've got a different line-up obviously and we're ready to roll again."
Who's in the band now?
"We've got a drummer, John Leamy. He's from Surgery, a band that's been playing around New York for a year or two. I've been playing with a lot of great guitarists in LA, but the one we've finally hooked up with is Daniel Rey (producer of Circus of Power, Ramones and Raging Slab). It looks like he's gonna put down the producing for a while and play some good guitar with the Masters now. He's a great player."
Chris keeps mentioning LA and admits that he's now been living there for a year
and a half, leaving isolated Syracuse behind once and for all. But the phony glitz and would-be star trips of the Hollywood scene don't faze him at all.
"I really like it. For every cowboy-boot band, there's also the bands you don't hear about. There's an undercurrent of bands that are really happening out there. You can see a change coming where people are just getting back to the roots. I've seen a coupla good bluesy hard rock bands and some heavy bands that have blown me away, so I'm regaining faith in the youth of America! Sure you can run around with rich Beverly Hills kids in California, but I'd rather play guitar and jam."
Now that Chris has relocated himself and the band, it's time to address the question of what exactly went wrong with the original group. It took them nine years to get a record deal and less than a year for it to go up in smoke. Chris reportedly walked out on the band in a Chicago hotel...
"I think it was just time," he reflects thoughtfully. "Me and Tim wrote together for the better part of nine years, and eventually you reach a point where you've got different directions that you wanna go in.
"I don't think it mattered if the album sold two million copies or 100,000 copies, it was going to happen. But it seems like it's working out for everyone though."
Tim Harrington and Vinnie Ludovico now have a band called the Bogeymen. Chris says that he hasn't heard them yet, but he feels confident that everyone is much happier now musically.
"The vibe started to deteriorate even before we were signed," he recalls. "We had done our demo, and that was kind of the do-or-die demo. Then we got signed by Rick Rubin, one of the hottest producers in the country, so we decided to stick it out. It was good that we finally got some of our joint efforts out, but everyone's moved on now."
Chris says that the transfer between Def American and Delicious Vinyl was relatively painless.
"It helped that Matt Dike and Michael Ross (Delicious Vinyl head honchos) were friends with Rick - that had a lot to do with the deal going down. If it had been two strange labels trying to work something out, we'd have probably been in litigation for the next four years. Usually when you make a move like that, the repercussions can harm you, wether they be legal or creative, but it worked out good for everybody involved."
Chris says that the Delicious machinery is in place to take a second, stronger crack at the marketplace with the Masters' debut LP, and to further that resolve the label and Chris reworked the product slightly, remixing 'The Candy Song', changing the track sequence and adding one new cut, 'Doraldina's Prophecies'.
" 'Doraldina' was already in the can from the first album," says Chris, "and it wasn't one of Rick's particular favourites. It has more of an ethereal side to it, and it's always been one of the favourite songs."
So the Masters' album is out once again, and you're advised to pick it up if you didn't do so the first time. A tour is being constructed, the new line-up is in place, and Chris says he's already looking ahead to the next album.
"I've just got tons of rock 'n' roll songs," he announces. "Coupla epics, a lot of little simple songs, if I have to sum it up, I'd say the next one will be like the Beatles' White Album meets Led Zeppelin's Physical Graffiti stylistically. I really wanna give people a band for their buck."