Masters of the Game
MASTERS OF REALITY The Roxy, Hollywood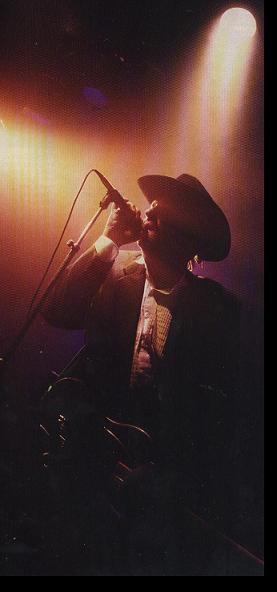 "l REALLY think that if Jesus was back here, he'd be in LA." But if Jesus actually is on the planet right now, and he had a hint of savvy, he'd have been in LA at the Roxy.
Because Masters Of Reality played, and only the foolish, Ignorant or punishable would miss them by choice.
The dramatic re-entrance of one nearly-wasted band saw Chris Goss and new guitarist Daniel Rey whacking out these fucking huge great bastards they call 'powerchords' with such style and vengeance, that a piano background should seem wrong. It didn't. Masters Of Reality have no rules. Quite simply, they do what they want, and for that reason alone it was seventh heaven to see them play again.
Of course, it's a little different this time around. There's Rey on guitar instead of Tim Harrington, and John Leamy thumping where Vinnie Ludovico once sat; but there's not one ounce of lessening quality to be heard - only perhaps the answers as to why the Masters split in thefirstplace.
All this brilliance was there before and now it's back in a newer, brasher more dare-devilish form. Anythingcould happen, and much of this is down to the scruffy ragamuffin figure of Rey. He hits monsters out of his guitar, the poor thing sagging under the strain of his attack.
Goss retains the crunchy psychedelia of yore, his figure cutting a Silhouette in the fog, whilst long-time partner Goodge took the rhythm with the feel of revitalised experience, a man who was more than a meter.
Repeatedly, the songs came. The swaggering 'Doraldina's Prophecies' and lead-subtle slab of 'SheGotMe','Kill The King\ 'Candy Song', The Blue Garden' and 'John Brown' - all mesmeric, all captivating.
And through it all, the danger of a note dropped here, a word missed there, the recklessness of Rey looking like a gleeful young pup running joyously around whilst older Master Goss got the contact high of chaos he's wanted for years. When the two took to stools with acoustics for 10 minutes, it was fittinq, not ridiculos.
Some never get a first Chance, most never get second.
Chris Goss and Masters Of Reality may very well be lucky, but on this display they are undoubtedly worth it. Special? You have no idea just how much.