Interview © NME 15 July 1989
from Dele Fadele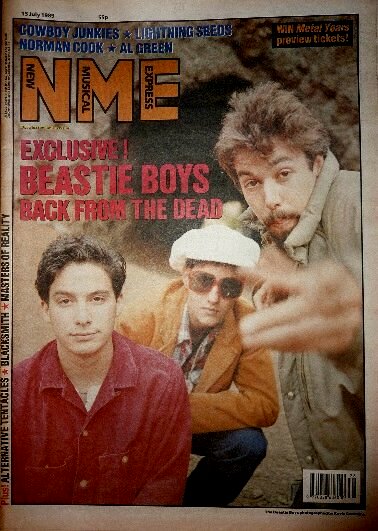 PAST MASTERS
Recently signed to Rick Rubins new label Def American, MASTERS OF REALITY are finally getting somewhere afer nearly ten years in the business. DELE FADELE spoke to lead singer CHRIS GOSS.
The bastard offspring of Black Sabbath, Cream and the Doors seeth among us once more: Masters of Reality are the most reactionary, wigged-out AOR specimen you´ll be unfortunate to come across this year.
How come velvet flares, loon pants, long hair and glazed expressions are suddenly hip again? Blame Rick Rubin and his Def American Organisation, fort hey unearthed this lumbering not-so-senile monster. Defiant and unsual, Masters of Reality break dreaded rock codes and thrive on barely-suppressed underground allegiances.
You really should hear their debut LP for conclusive proof that Ozzy Ozbourne didn´t die at Altamont, Jimi Hendrix relaxes in the Carribean, and hip-hop and house are figments of someone´s over-active imagination.
But what the FUCK are they?
What´s behind the all-out attack on dimished senses? Why do they have an LP covert hat YES or other dinosaurs would be proud of?
I caught Chris Goss on the Transatlantic line from Syracuse, New York. He seemed ebullient and almost over-happy but took time out to set the record straight.
"As far as the album goes, I was pretty playful, the band was pretty playful and we just had a ball. Everything is very straight-ahead now, there´s no question as to what we´re trying to say. Just like the best music these days. It leaves a lot of space for critism or analysis, if anyone cares to do it. If they think it´s too esoteric or vaque at times, then fine. We want to have an hypnotic effect on the listener."
"Domino" is the monster LP-track, even eclipsing "Kill the King´s" lowdown boogie, with earth-shattering yelps and a healthy collision/collusion of musical styles. The arcane rituals oft he occult and black-magic circles – y´know witches, devil-worship etc. – seem to have influenced The Masters worldview.
Chris categoically denies this, probably fearing repercusions from jumped-up prtenders like the PMRC and the Washington Wives.
Mysticism is an even better pointer for where these guys are at. Like the proverbial ghosts in the machine, theis automated rhythmic crush is propelled along by intangible things. Vague allusions to medieval imagery abound, real symbols of genuine importance. So what´s with all the mystical allusions?
"Well Mysticism ist he highest point on the spiritual plane. Not everyone enjoys living in the 20th Century ´cos it´s worthless. You live everyday under the threat of nuclear war as a means of settlement.
The furious energies that brought this century into being have been dissipated, replaced by mass media and the global village idea. We just like reaching back into the past.
We wanna grasp spiritual things that could be useful for survival. I´m not a situationist but somehow one must face up to the 21st Century. And going back to elemental things is a good way of doing that."
Elemental in what sense? Fire, earth, air, water or basic human qualities?
"Both," Chris says, "We´re not about to sing worksongs from cottonfields and hope the foreman will pay us at the end of the day. We just use the power of imagination. Anyway fort he LP I did a lot of automatic writing; straight from the heart but stream-of-consciousness as well.
And the band just played on, man. Rick Rubin was amazed at the diversity of what we had to offer. He sometimes thought there were three different bands playing together."
MOR don´t acknowledge prevailing FM mores yet they´re more exciting and enticing than all their competition put together. It´s down on their fierce intelligence and irreverance , challenging your preconceptions while putting across a "don´t give a fuck" attitude. These guys are scary, but not in the contrived po-faced Gothic manner you´re used to.
They originated in Syracuse at the turn of the decade, but hate the current state of electronic music, claiming synthesisers should be used for disruptive purposes only, not as gelatin-like, syropy accompaniments. Hence the abrasive and outlandish use of guitars. Lock up your sheep, the guitar hero has returned.
"It´s been a long, hard struggle. We could have gone on at the same basement level for another ten years, wanking away in the darkness. But Rubin rescued us from obscurity."
Indeed. These guys have been around for ages, working in isolation. Playing dingy dives sporadically and then hibernating, ten years have passed since those early stirrings. The last time I saw these guys, you couldn´t move for clouds of dry ice, synthesisers provided the backing pulse, and the deathly howls and obsure litanies would have made them the envy of many a young European pretender.
Since then they´ve metamorphosed into something uniquely startling. No one can explain fully why this stuff´s hip – probably due to everyone looking nostagically backwards. But what were the reasons fort he major change in style?
"We´re moving on to different things, making it more guitar-orientated, we started doing that some years ago. Just movin´ on. That´s it. Any one thing gets boring after a while and it´s more rootsy now."
They´ve now moved out to Los Angeles – cursed city of opposites conjoining. I wonder if their lifestyles have changed correspondingly.
"Our lives haven´t changed. They still suck. There´s no money tob e made unless you sell half-a-million LPs. You´re broke. You beg the record company for money. A couple of weeks later you´re broke again. That´s basically what it´s all about. Just enough to squeeze by. Everyone in the band has been living the lifestyle of a musician, which means unpaid bills, getting thrown out of apartments for unpaid rent… It´s become a big monster. Being able to move to a better city like Los Angeles is great though. Apart from that nothing´s changed."
MASTERS OF REALITY are on a fucked up one-way trip though hell´s darkest chambers, but there´s really nothing offensive about them. They don´t court your hate but would be satisfied with it.
Who cares which way the prevailing winds are blowing, when you can have an out-of-body experience, be mesmerised, thrown up and chucked out by their grimy montages on the state oft he national US psyche. Meanwhile, Chris would rather discuss food than American foreign policy.
"Rick Rubin likest o eat, the band likes to eat too. Man, I could go on for hours with food stories about the studio, and the connoisseur Rubin is with junk food.
Going out of our way to find the right cheeseburgers and hot dogs. Really funny.
When Rubin moved to LA he used to go on about how the best junk food in the world was in LA – really delicious greasy food.
"I´m into that and food has been a really serious topic with us. Seriously funny. Once wes at in a studio and didn´t know what to eat. I called a restaurant which had hot dog pizzas and told Rick "Hey they have weenie pizzas over here". He made a face like he loved the idea and said,
"Hey, let´s go…"