Interview © Herald-Journal Syracuse
23. February 1989
from Brian G. Bourker
(Thanks to my friends Stephen Pontello - Syracuse USA and Martin Sloan - UK, for their help)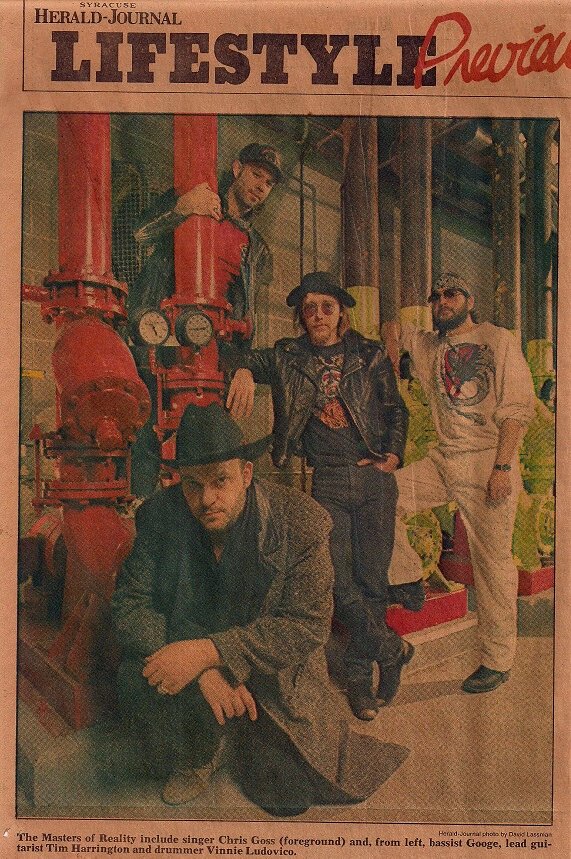 MASTERS OF REALITY
Local bandīs hard-rock sound in tune with big-time success
Rising from the "rockīnīroll netherworld," the Masters of Reality are poised to assault the real world.
A cult favorite in Syracuse since 1981, this four-man band has released one of the most critically acclaimed albums of the year on Def America/Geffen Records. Itīs the first Syracuse act to record for a major label since 1982 when 805 recorded for RCA.
The Mastersī combination of mystical lyrics, blues-based hard rock, crunching guitar licks and just plain fun has earned comparisons to such classic rockīnīroll groups as Cream and the original Black Sabbath.
Steve Morse of the Boston Globe said singer Chris Goss "sound like Country Joe McDonald doing Led Zeppelin tunes," while the Los Angeles` Janiss Garza assured her readers "you have something warped and wonderful on your hands."
Says Goss of the album, "Yeah, it kind of grows on ya, doesnīt it."
"Recording it was such a long grueling process, that it took a while before I really wanted to sit down and listen to it," added the singer over tall, strong glasses of iced coffee at a restaurant in Eastwood. "Now, I am able to relax and enjoy it."
YET, GOSS AND other band members, as well as longtime followers, say the albumīs sound is a bit different from what they expected.
"I didnīt expect it to be so bluesy," Goss said. "Itīs a lot less space and ethereal than I had personally envisioned. Instead, it is much simpler, a lot of more fun. It sounds to me like a rockīnīroll music box."
Playing in that music box, in addition to Goss, is lead guitarist Tim Harrington, drummer Vinnie Ludovico and bass player known simply as Googe. Keyboardist Mr. Owl – real name Al Dunn – a longtime member of Masters of Reality, is heard very sparingly on the album and will not be featured with the group at a Friday album release party at THE MAX in East Syracuse.
"The way our music has evolved, there are very little keyboards in the tunes," said Goss. "The future of keyboards in the group is something weīre working on now."
The elimination of the keyboards and the emphasis on the hard-rocking blues guitar sound came from producer Rick Rubin, known for his work with the Beastie Boys, Run DMC, Aerosmith and the Cult. After hearing a demo tape of the band, he chose them as one of the first two releases on Def America, his new label.
"Rick had a certain finished product in mind, a product that was less spacey, less college radio sounding than what we were known for. When he listened to our demo tape, he decided that our strengths were our strong guitar licks and god hook writing. He couldnīt understand why we wanted to make it so purple sounding with the keyboards and all."
RUBIN DIDNīT NECESSARILY change anything the band was doing: he just simplified what was already there.
"He uses few or no effects," said Goss. "He likes the natural sound of the instruments right up front."
That's especially true of the album's drum sound, which literally jumps out of the speakers. "He just put the mikes on the drums, no sampling, no electronics, nothing", said Ludovico. "That's all me."
The drummer went on to describe Rubin as demanding, but exciting to work with. "We got along with him real well, he's a real comical guy."
Comical maybe, but Rubin's work habits certainly took their toll on the band members during the recording of the album, from June 1 to Oct. 14 in studios in New York City and Los Angeles. The producer booked the studio from 7pm to 7am, putting the musicians on a highly irregular schedule.
"Dracula hours", commented Ludovico.
"It was hell", added Goss.
And, according to Harrington, "A lot of fun."
RUBIN BECAME INTERESTED in Masters of Reality after band manager Steve Latham sent him the group's latest demo tape.
"I used to manage a restaurant called Exterminator Chili in New York and (Rubin) used to come in once in a while", said Latham. "I had tried before to interest him in the Masters, but he just listened and said 'Sorry, not interested'. But when they did the demo tape with 'Kill The King' on it, the riff there really grabbed him".
Another heavyweight, director Jan Pellerin, was bought in to handle the video for the album's first single, 'Blue Garden'. He's responsible for the series of videos that helped make Def Leppard a heavy metal household word.
"The video was a lot of fun", said Googe. "Jan is a great guy to work with. He may be a great director, but on the set he was just one of the guys, hauling cables around and all"
The video features performance footage, shot on a television sound stage "with lots of chroma key", said Goss.
"Yeah, it looks like an acid trip", joked Ludovico.
Chroma key is a video process where subjects are tinted with brilliant colors.
"MTV has the video now, but they're not sure where to put it", said Goss. "It's so bright and so electric looking, it's going to make everyone's TV crackle"
THE SINGLE, "Blue Garden" also is being played on the radio in 45 markets, including Syracuse, where the album is the "Pick of the Week" at WAQX-FM (95X).
"I really like the bluesier feel to it and the guitar sound," said 95Xīs Dave Frisina, who had previously featured music from the bandīs demo tapes on his Wednesday night "Soundcheck" show.
"It really has that classic rock feel to it," added Frisina, noting the comparisons to Cream and Led Zeppelin. "I think this is a great time to be putting out a record like this."
Masters of Reality was formed by Goss and Harrington as a duo, complemented by synthesizers and drum machine, in 1981. Bass and keyboards were later added, but the groupīs sound was solidified, said Goss, "when we got the tomato farmer, " referring to Ludovico, who likes to grow vegetables.
THE EMPHASIS HAS always been on presenting Goss and Harringtonīs original music. They collaborated on the albumīs 10 songs, over the course of the last three years. Two of them, "GettingīHigh" and "Kill the King," were written in the studio.
"Thatīs an interesting way to work," said Goss. "When youīre working as a group that way, different people might have different ideas of what the song is going to turn out like. I might imagine a distorted type riff, while Tim might be thinking of something a little funkier, and then the producer could decide he wanted a metal lick." He said itīs a matter of trial and error. "More error than trial," added Harrington.
But some of Gossī words have brought him a little flack in the Salt City. The hype sheet sent out with promo copies of the Mastersī album calls Syracuse a "rockīnīroll netherworld," then quotes Goss describing the city as "a failing industrial city with a dead downtown. It has a sports bar mentality."
"That was taken a bit out of context," Goss said in his own defense. "But when someone in L.A. asks what the rock scene is like in Syracuse, what was I going to say? I mean, we donīt have a string of rock clubs with thousands of kids hanging out of them."
Still, band members say they do enjoy living in Syracuse.
"Thereīs great soil here," said tomato farmer and drummer Ludovico.
ALBUM REVIEW from Brian G. Bourke
Itīs unanimous, īMastersī is an excellent debut album
Jumping on a bandwagon is never a fun thing to do, especially for us critical types, who like to think of ourselves as independent thinkers.
So, with Syracuseīs Masters of Reality earning rave reviews for their debut album, in everything from Billboard magazine to the British heavy metal press Kerrang to the Syracuse Post-Standard, it would have been nice to be able to find some hidden flaw that the others had missed.
Unfortunately for the criticīs sense of independence, the Masters of Realityīs self-titled album is simply a great piece of work. Crisp hard-driving guitars and mixed with an explosive backbeat and the commanding vocal presence of Chris Gossī tenor. The albumīs vocal and guitar hooks are infectious, rattling around in your head long after the tape deck, turntable or CD player has stopped.
Tim Harrington's guitar stretches out for a short overture on the album opening "The For The Scientist Of The Invisible", before giving way to "Domino."
"Domino" features creative use of stereo separation – guitar churning out Hendrix-like riffs on the left channel, as Vinnie Ludovico's powerhouse bass drum enters on the right – a process largely ignored in the past decade.
The first single, "Blue Garden", as well as "Kill The King" are more complex, progressive numbers, both ultimately erupting into thunderous guitar figures and featuring some fine lyrical twists from Goss.
"Getting' High" is a simple, yet beautiful, guitar boogie, with a message that need not have anything to do with drugs, "Lookin' To Get Rite" offers hints of Delta blues and acoustic Led Zeppelin.
"John Brown" combines the story of this historical figure's death with a bit of Goss' favorite childhood fairy tale, "Three Billy Goats". And "The Eyes Of Texas" pays tribute to the Lone Star rock 'n' roll of ZZ Top.